Sorry for the delay in getting this drawing closed… it was the 4th of July weekend and we had plenty of family in town visiting! I took some great photos and will be posting them soon, but I want to ask each of you to either email me your 4th of July hairstyles or post them to our Facebook page. From there, I will gather them and place them all in a post here for everyone to see!
So, on the way to the winner of our $50 gift card giveway! Here is the winning number from Random.org….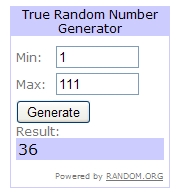 That means that Kori won the $50 gift card! Congratulations, Kori!!! Here is her winning entry…

Kori, if you can email me with your mailing address as well as to which location (Olive Garden, Applebee's, Target, or Sally Beauty Supply) you would like the card to come from. I will mail it right away!
Thanks again to all of you wonderful mommies for participating, and come back soon as we will host another great giveaway very soon!
Happy Hairdoing!
* Note from Mindy: Don't forget to follow us on BlogLovin, a new easy-to-use blog reader!