Susan at the Monkey Moo's has agreed to provide us one "Two Moonlit" Gift Set for our giveaway, and as the winner you can pick which Moonlit clips you want included!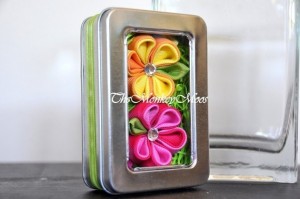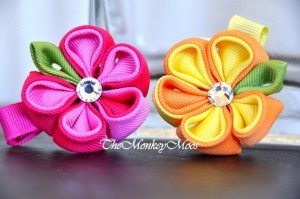 Again, this giveaway is for one "2-Moonlit Flower" Gift Set and the entry deadline is for 12:00 midnight on Wednesday, Feb 16th. For all contest rules and entry details, please visit our giveaway site.
Here is a photo of one of my girls wearing one of the larger Starlit clips…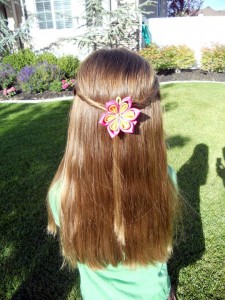 For those of you who simply cannot wait, Susan at the Monkey Moos has also offered our followers an exclusive coupon for 5% off if you enter in code AAD5NoTin during checkout! These will not be shipped in a tin, but will be tastefully packaged! Take advantage of this while you can, because the coupon also expires at midnight on Feb 16th!
Good luck, and Happy Hairdoing!

* Note from Mindy: Don't forget to follow us on BlogLovin, a new easy-to-use blog reader!