We have decided to get seasonal again, so Adopt a 'Do – Cute Girls Hairstyles will be sponsoring a Kids Halloween Costume Photo Contest on our Facebook Fanpage!
Halloween is one of my most favorite holiday times of the year! It is a festival of all-out creativity, culture, and wonderful smells of pumpkin spice and hot chocolate! It is time to get FESTIVE!!!
An example of the type of photo we expect to see is posted below. (So many of you have expressed interest in seeing a younger photo of my twins, so I posted this Halloween photo from 2002. Yes, they were a mere 22 months old at the time of this photo!) Aren't they so cute???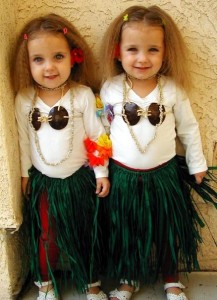 Prizes:
1st Place – $50 gift card (or Paypal payment)
2nd Place – $30 gift card (or Paypal payment)
3rd Place – $15 gift card (or Paypal payment)
* The gift cards can be to either Wal-Mart, Target, or Sally Beauty Supply.
Contest Details:
I have created an album on our Facebook page called 2010 Halloween Costume Contest.
The photos do not have to be from 2010, but it does have to be of your child and you must own the photo's copyright (cannot submit someone else's photo).
The child must be between 0-10 years of age, and only one photo per child may be submitted.
All photos must be emailed to me at cutegirlshairstyles(at)gmail.com by midnight November 1st, MST.
Photos must be child appropriate and cannot be offensive in any way (or they will not be posted).
I will post all qualifying photos at once on November 2nd, to give everyone a fair chance and equal timeframe for obtaining the most votes.
Winners will be announced based on the vote count at midnight November 8th, MST, so that is a full seven days of voting!
I will enter your first name in the description just so voters can be sure that it is your picture they are voting on.
By emailing me your photo, you consent to my posting your picture in the Facebook contest photo album, as well as to posting your photo on our website should you win one of the prizes.
You must be age 18 years of age or older to enter a photo and by emailing me you are consenting that you comply.
You can start submitting your photos today!
Soliciting Votes:
There is no random drawing for this contest! It is based purely on votes from your family and friends, as well as our website/YouTube/Facebook visitors.
All voters will need to become a fan of our facebook page before they can vote for any photos (see below)…

Then simply email the photo or album link to all your friends and family, post it to your blog or Facebook/Twitter status, etc. to try and get as many Likes on your photo as possible between Nov 2-8th!!!
Once your photo is submitted, votes will be counted via the "Like" feature below your photo in our photo contest album (see below).

The more likes you get, the more votes in order to win. Total likes equals total votes (1 like = 1 vote).
Per Facebook coding, each fan can only vote for a photo once, which is great because it prevents gaming. You may, however, vote for as many photos as you wish.
Be sure to vote for your own child! I'd be concerned if you didn't!
We are anxious to see all of your cute kids in their awesome and creative Halloween costumes! I am really excited to see what you come up with!
* Just a reminder… be sure that your digital camera is charged before you head out to that party or Trick-or-Treating!!!
Happy Halloween!
* Note from Mindy: Don't forget to follow us on BlogLovin, a new easy-to-use blog reader!