Thanks to everyone who entered our Monkey Moo's Moonlit Flower Gift Pack Giveaway! I used our randomizer to choose the winner from among the 169 entries, and entry #149 won!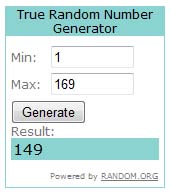 Scrolling down through the comments, the comment landing at the 149th spot was as follows…

Congratulations, Burgundi! I noticed that you did not leave an email address so that I can put you in contact with The Monkey Moos so that you can choose your two Moonlit flowers. Please send me your email address here, ASAP.
Thanks again, everyone, and check back very soon because I have a great cache of wonderful products to give away!
Happy Hairdoing!

* Note from Mindy: Don't forget to follow us on BlogLovin, a new easy-to-use blog reader!