After one full week of Facebook voting, here are the three 2010 Kids Halloween Contest winners! (You may click on a given photo to view them in a larger format.) Each of the three are absolutely amazing, as were all the 300+ photos submitted! You all seriously have the cutest kids!
1st Place Winner ($50 Gift Card)
Submitted by Alyssa C
Total Votes: 160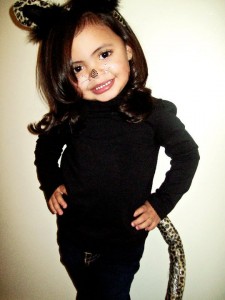 What a little doll! There is surely lots of personality here, and I absolutley love her jeweled nose and whiskers! This little one is certainly going to be a heartbreaker!
2nd Place Winner ($30 Gift Card)
Submitted by Hawley
Total Votes: 125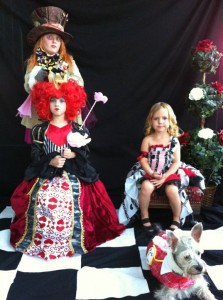 I absolutely love how this photo was set up. I am just waiting for the Queen to yell "Where's my pig???" The family theme idea is so cute!
3rd Place Winner ($15 Gift Card)
Submitted by Abby W.
Total Votes: 100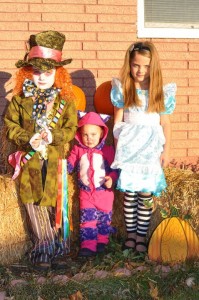 Again, I had no idea that Disney had such elaborate costumes! Apparently all of you didn't either, since 2nd and 3rd Place were based on Alice in Wonderland costumes! So fun!
* ~ * ~ * ~ * ~ * ~ * ~ *
In order to fairly tabulate the votes, I pulled up the top four photos at 11:55pm last night on four internet screens. At 12:00 midnight, I refreshed all four photos to get the exact vote count at that time and then captured screen shots for each (in case anyone wants to see them).
Since voting was so close for third place, I have decided to offer a $10 gift card for 4th place as an Honorable Mention.
Honorable Mention
Submitted by Peyton S.
Total Votes: 97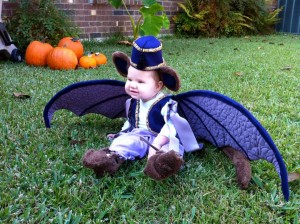 Thanks to each of you who submitted a photo and those of you who took the time to vote. I hope you all enjoyed this contest and received some good costume ideas for next year! If you are one of our four winners, please email me your gift card choice (WalMart, Target, or Sally Beauty Supply) as well as your full name and mailing address.
Thanks, and Happy Hairdoing!
* Note from Mindy: Don't forget to follow us on BlogLovin, a new easy-to-use blog reader!