May 20, 2010
Winners of Hair Flair Giveaway!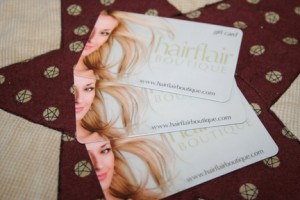 OK, girls… here are the results of the completely random 3 drawings for our May's Hair Flair Giveaway! Each winner will receive one of these $10 gift cards to Hair Flair Boutique.  Thanks again to all of you wonderful women who participated!  The winning numbers and names are as follows…

#74 Erin Elder  (winning entry out of 13 total entries)
#160 Anjie B.    (winning entry out of 3 total entries)
#55 Lisa Hinkamp      (winning entry out of 14 total entries)
Congratulations to each of these ladies!  If each of you winners can email me with your home address by Monday (May 24), I will mail these out as soon as possible. If I do not hear back from any of them by Monday of next week, we will draw again.  Girls, please check back often as we will be hosting another fun giveaway very soon!
Happy Hairdoing!
* Note from Mindy: Don't forget to follow us on BlogLovin, a new easy-to-use blog reader!