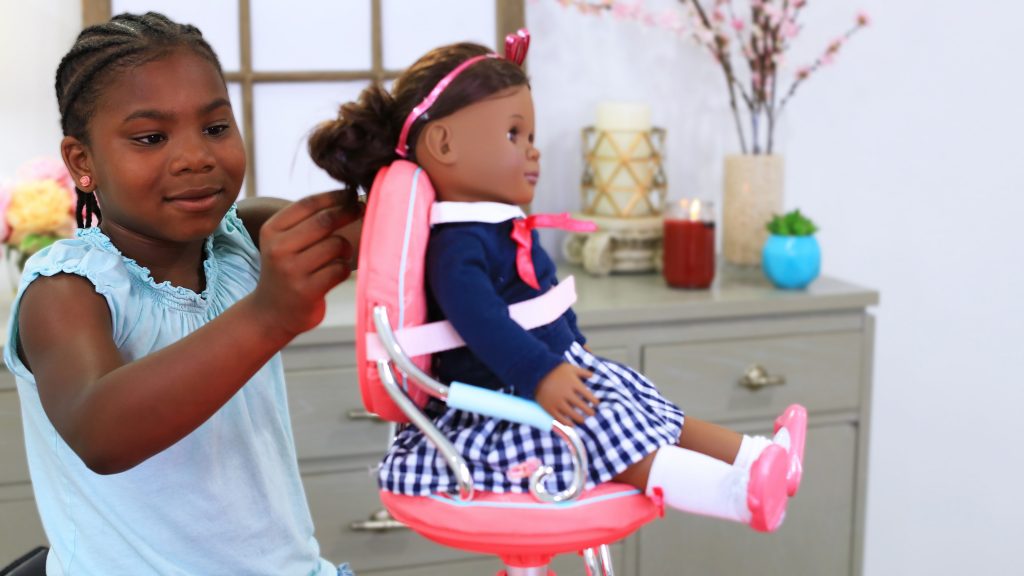 I love hair because it's fun for all ages whether you're a mom, teen, or even Paisley. Today, Paisley is going to show you how to create a cute and easy hairstyle on her doll, Mia. The #CGHDoubleBraidBuns is a fun little style that can be done on your play dolls or even on your own hair! It's a cute look that you can wear casually on a busy Saturday afternoon running errands or even dress it up when you are going out on the town.
Items Needed: Brush, blow dryer, bobby pins, ponytail holder, headband (for an accessory)
Time Requirement: 3 to 5 minutes
Skill Level: Easy
---
Double Braid Buns
Start by putting your hair into a ponytail.

Take a spray bottle, and spray water evenly throughout the ponytail.

Then take the blow dryer, and dry the ponytail.

Divide the ponytail into 2 sections.

Take the first section of hair and braid until the end of the ponytail. Then secure it with a rubber band.

Then take the second section of hair and repeat 

Wrap around one braid to create a bun.

Take the second bun, and repeat step 8.

Lastly, take a few bobby pins to secure the buns tightly. TIP: To set the hairstyle, spray hairspray evenly if desired.
Watch the full tutorial:
To see your own photo recreations of this style featured in our CGH app, feel free to tag your photos on IG with: #CGHDoubleBraidBuns