Hey guys! I'm Leia from Eat It and Say Yum. Have you been cheering on your favorite football team this season?  My favorite part of watching football, besides snuggling with my husband, is eating all the great finger foods.
The BIG GAME is coming up soon and I'm already thinking about what yummy snacks to make.
One thing that is definitely going on the menu, are these Buffalo Chicken Taquitos.  Yummy!
These Taquitos are pretty easy to make, and can even be made ahead of time.  So when the game is about to start you can just toss these in the oven and heat 'em up.  Perfect.
This dipping sauce is more than just dressing.  It has cream cheese, bleu cheese, sour cream, and even buttermilk!  All those give great tang, and creamy texture.
To save time, I use leftover rotisserie chicken in this recipe.  Makes things so much easier!
So, you add pretty much all the taquito ingredients to one bowl, mix, and then fill the tortillas.  Once you roll up the tortillas, you can freeze the taquitos if you want, or keep them in the fridge for a day and then bake them just before your shin-dig.  Or, bake right away and enjoy!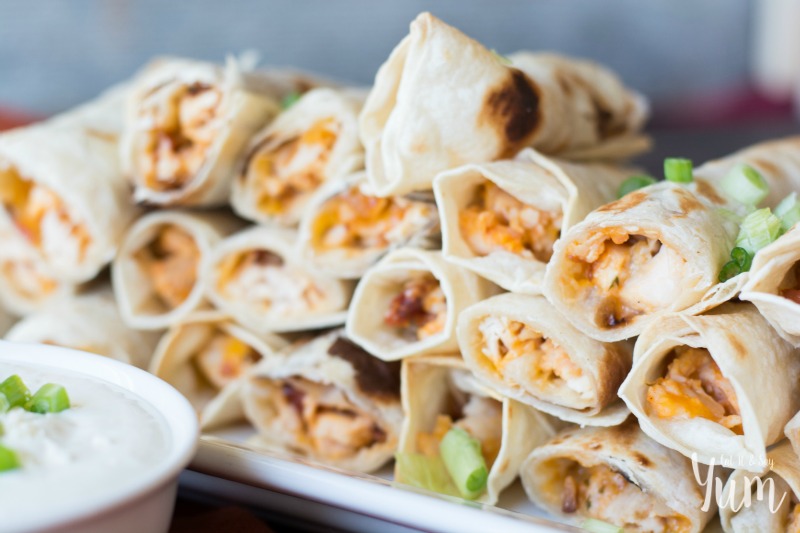 After baking, cut each taquito in half, so they are the perfect finger food size.  Which is good, because you know there should be lots of options at a football party!
Buffalo Chicken Taquitos with Tangy Dipping Sauce
Taquito ingredients:
3 cups cooked chicken- shredded then chopped into small pieces
1 cup grated cheese- Colby Jack , Cheddar, etc.
1/4 cup buffalo sauce- like Frank's Hot Sauce
2 tsp Ranch seasoning mix
1/2 cup cooked bacon- crumbled
about 12 flour tortillas- warmed
cooking spray or oil
Directions:
 Preheat oven to 425 degrees.  Add the chopped chicken to a large mixing bowl.  Add the cheese, hot sauce, Ranch seasoning, and bacon to the bowl and mix together until evenly combined.
Spray a baking sheet, lay a warm tortilla on the pan and spoon about 1/3 cup of chicken filling down the tortilla, just off-set from center. Roll the tortilla up, tightly.  Move it to the edge of the pan, then repeat with the remaining tortillas and filling.  (At this point you can store the taquitos in the fridge or freezer to bake later.)
Once all the filling has been used, spray the tops of the rolled tortillas with cooking spray, or brush them with oil.  Bake for 12-15 minutes.  The taquitos should be golden brown and crispy.  Remove from the oven and let cool a minute, then cut them in half for a better appetizer size.
Dip in the Tangy Bleu Cheese sauce, enjoy!
Tangy Bleu Cheese Sauce Ingredients:
4 oz cream cheese- room temperature
1/4- 1/2 cup bleu cheese crumbles- according to your tastes- plus extra for garnish
1/2 cup sour cream
1/4 cup buttermilk
2 green onions- sliced
Directions:
Beat the cream cheese in a medium mixing bowl with an electric hand mixer.  Add the bleu cheese and beat again, until fully combined.  Add the sour cream and buttermilk and mix again, until smooth.  There will still be pieces of bleu cheese, those don't have to be smooth.
Store the sauce in the fridge until ready to serve.  Sprinkle it with more bleu cheese and the green onions when ready to serve.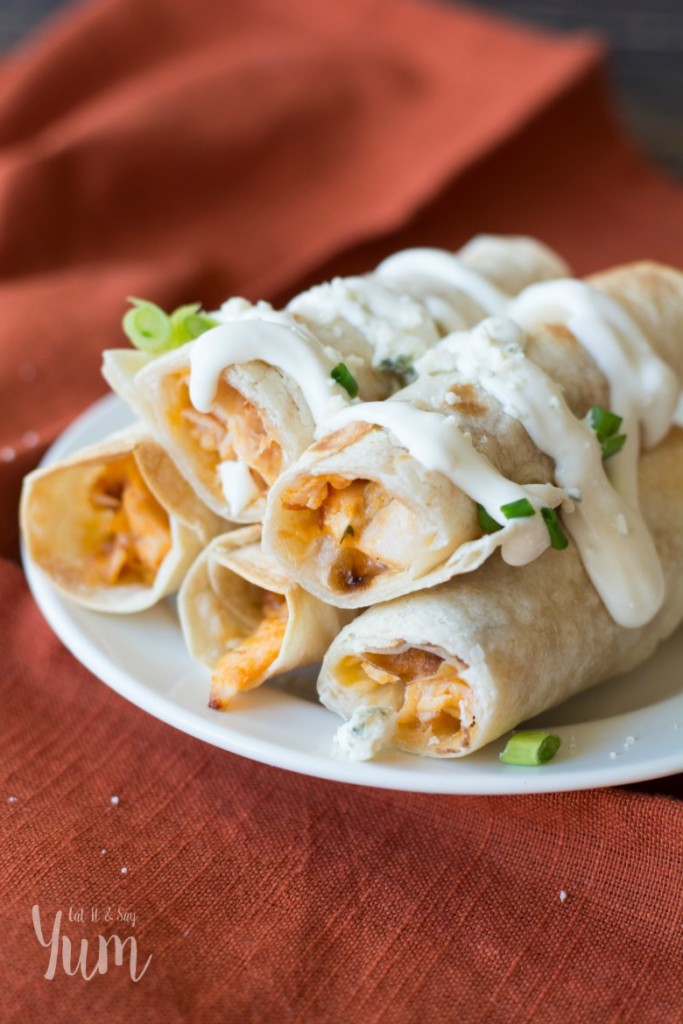 When you serve the taquitos you can always sprinkle on more bleu cheese or green onions as a garnish.
For more game day food ideas check out EatItandSayYum.com.