It's the time of the year for crisp autumn mornings, beautiful leaves, pumpkin spice lattes, and TURKEY DINNERS! That's right, I'm talking about Thanksgiving! Now here in Canada we celebrated Thanksgiving last month so I have been sporting Thanksgiving-themed nails for a while now. Take a look at some festive nail art to rock your Thanksgiving celebration!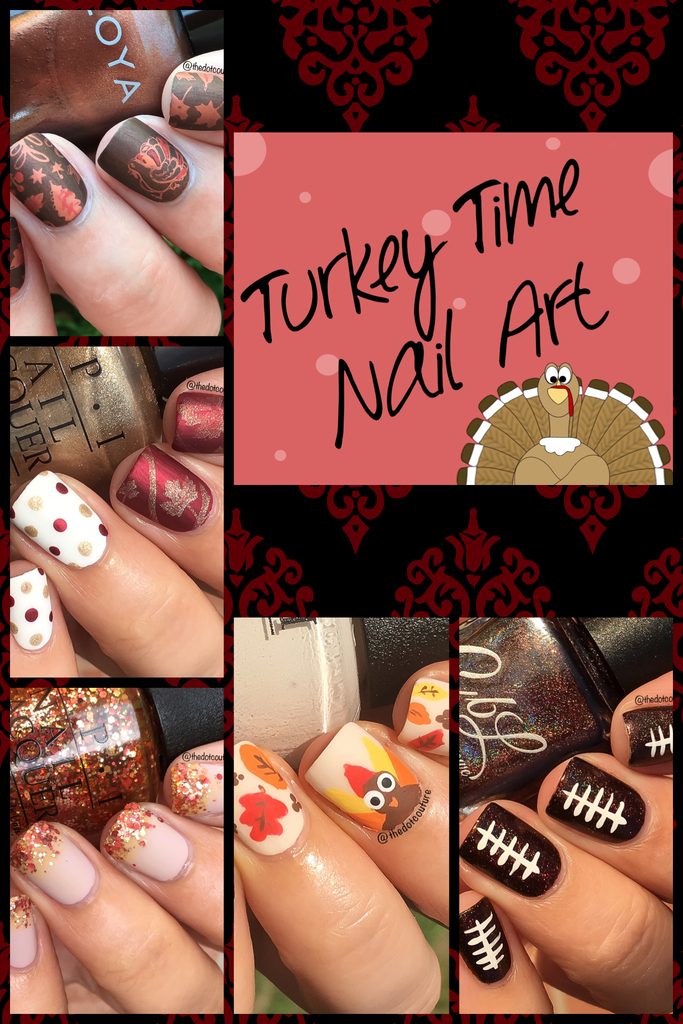 Red and Gold is such a traditional Thanksgiving palette.  Red apples, golden leaves, golden delicious turkey!! For this look I painted my first two nails a beautiful deep burgundy red and stamped a maple leaf image using a shimmery gold polish. I painted the ring and pinky finger white and then used a bobby pin to create random dots using both the red and gold polishes. Top it all off with a matte top coat!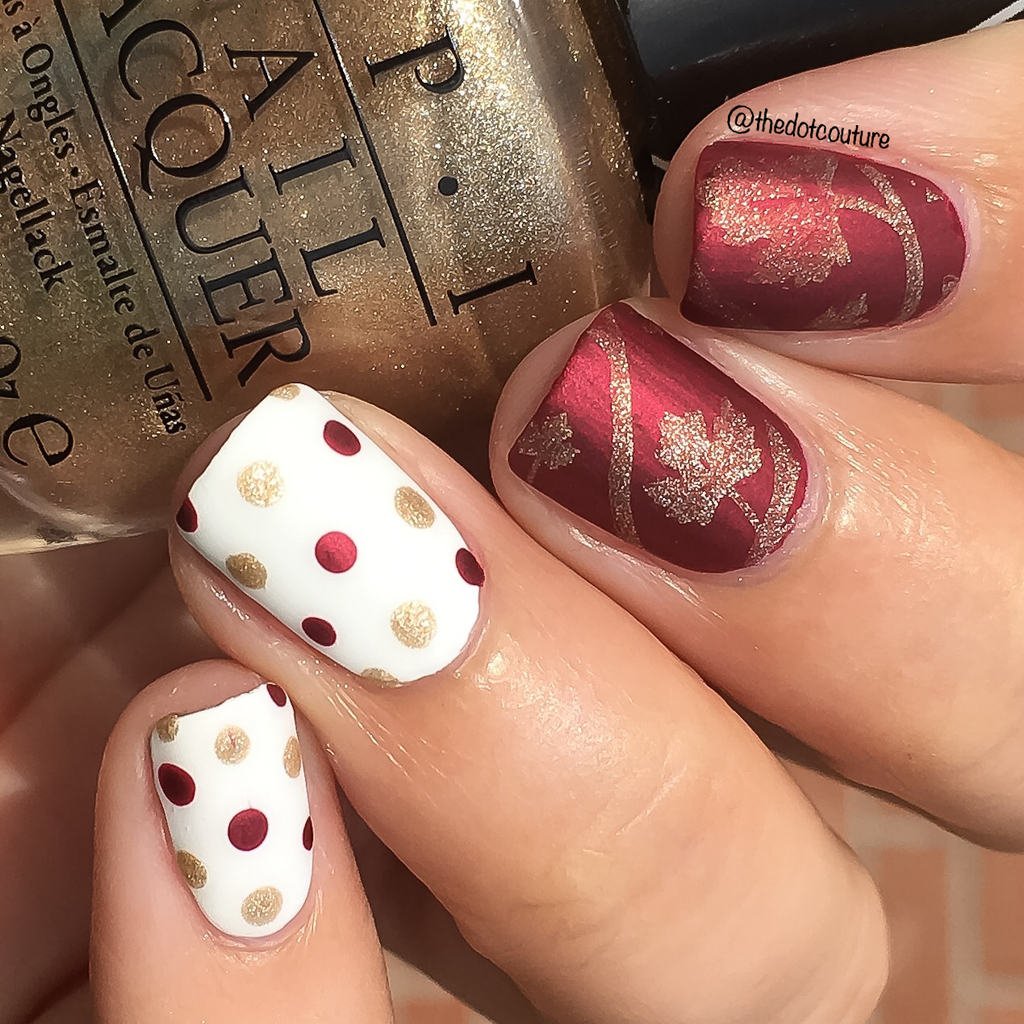 Next up is a lovely nude and fall glitter gradient! Paint your nails a nude colour. Use a fall-ish looking glitter to create a gradient on the bottom third of your nail. I used this glitter from OPI that's just full of orange and gold. Use a makeup sponge from your local pharmacy or beauty store, paint the glitter onto the makeup sponge (this will absorb the clear base and leave just the glitter), and then dab onto the tips of your nails, gently working upwards. Top with a matte top coat (I'm all about the matte top coats this year!) It's like a pumpkin pie on your nails!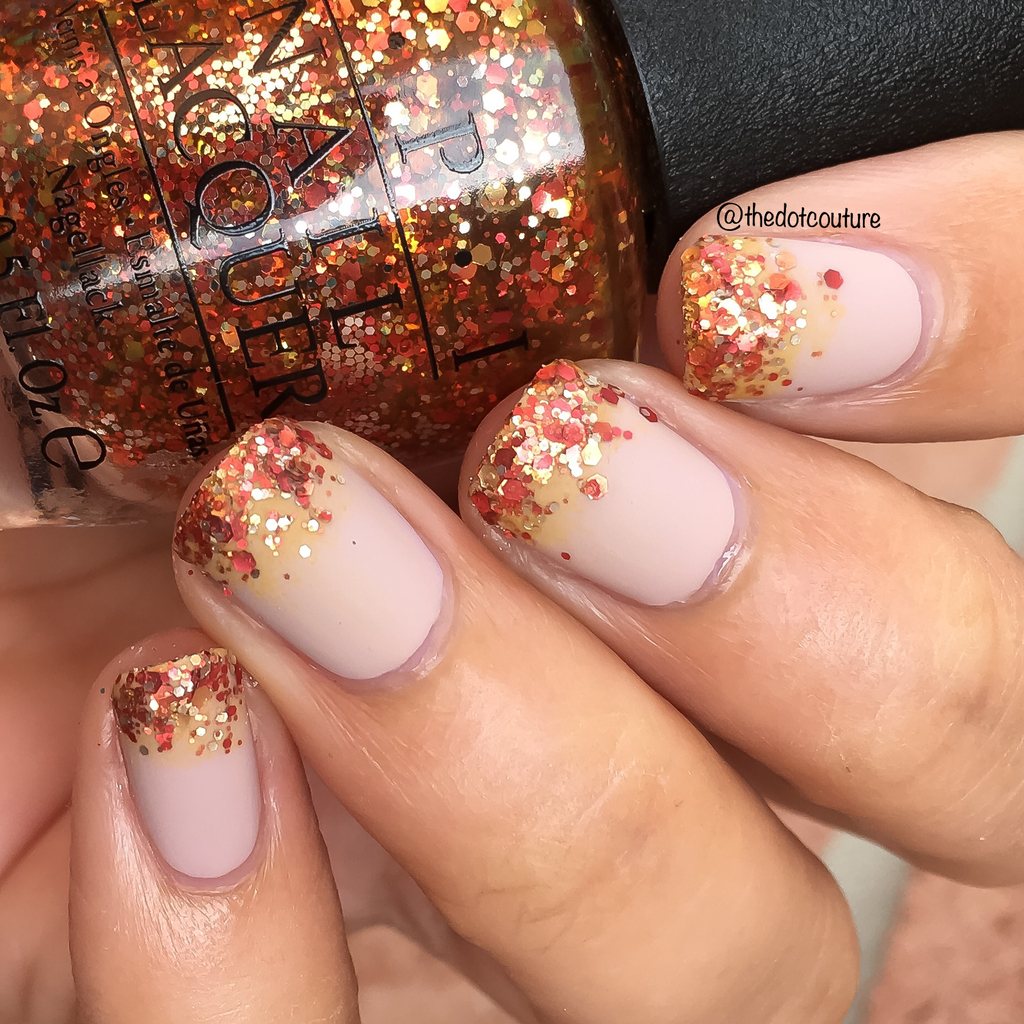 Next we have another stamped mani – paint your nails a dark chocolate brown. Stamp on random leaf patterns using a bronze metallic polish (I used Essie Penny Talk). Add some red accents with a red metallic polish. Top with matte top coat. You could also freehand this if you don't have a stamp.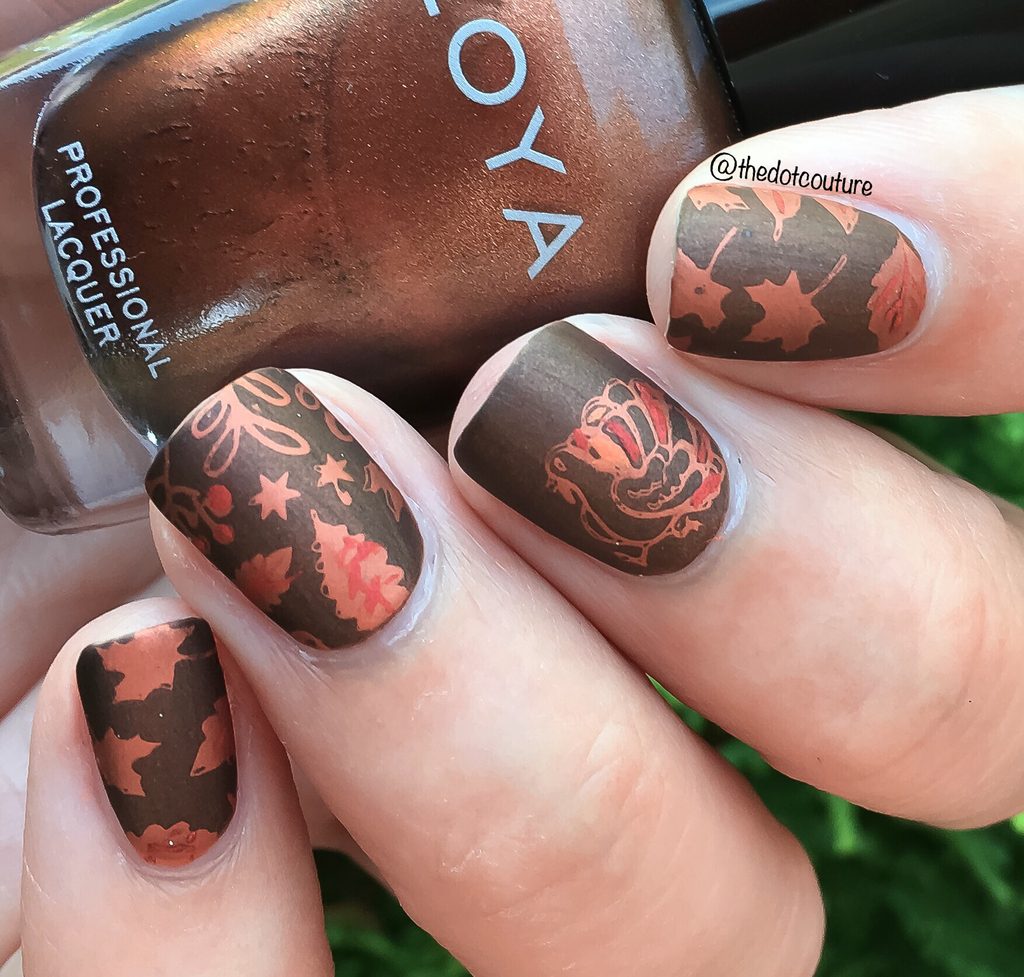 Is it more dead leaves and barren trees than beautiful fall foliage at Thanksgiving where you live? If you don't want to go with the typical fall/pumpkin/turkey/gourd motif, how about football? Football seems to be synonymous with Thanksgiving in some countries. I painted my nails a deep brown (I used a holographic brown to keep things interesting!) Then take a bit of white acrylic paint and a craft store paintbrush (hint – you can trim off some bristles to decrease the diameter of the brush in order to make a super fine paintbrush). Using the white paint gently draw a line vertically along the centre of your nail. Then do smaller white lines horizontally. This will mimic the laces of a football!!! Proceed to cheer team incessantly with cute football nails!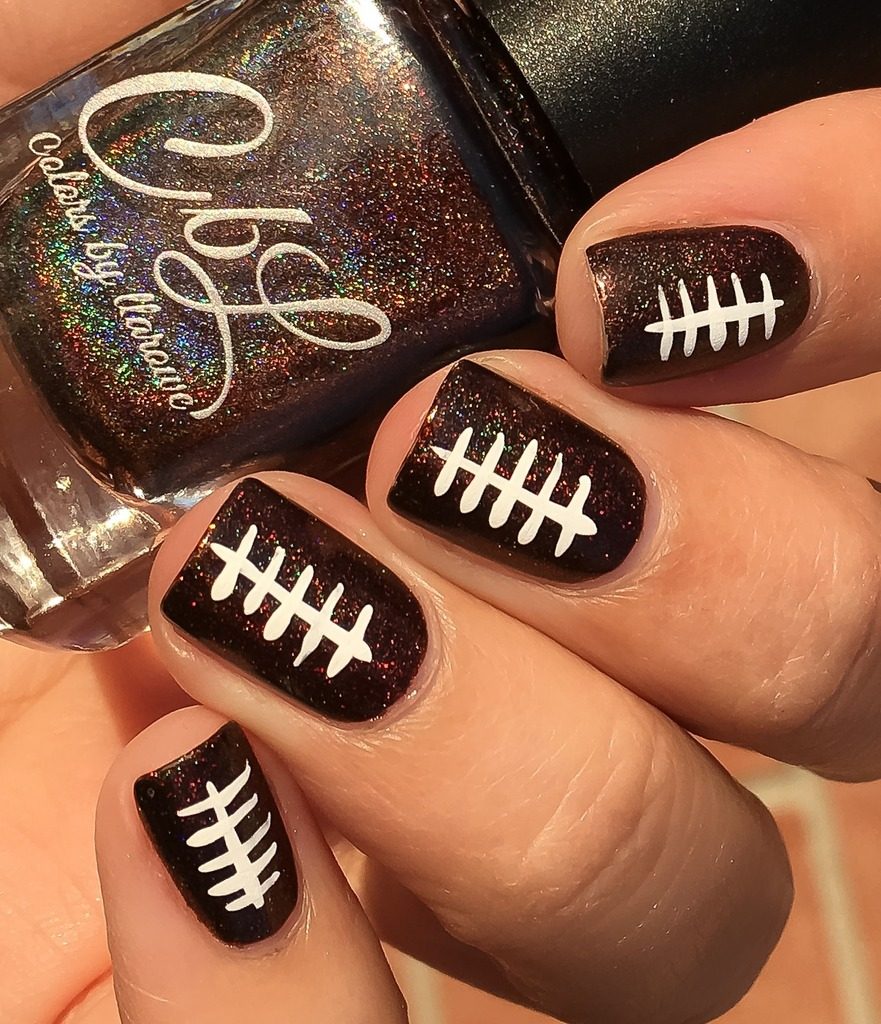 And my final (and favorite) Thanksgiving nails are hand painted turkey nails! These are surprisingly simple, especially if you use acrylic paint. They take more patience than talent.
Paint the nails a warm-toned (almost nude) off-white (this is OPI My Vampire is Buff), and let dry. Using orange, yellow, and red acrylic paint and a bobby pin or dotting tool, make leaf-shapes by gently dragging the paint-dipped dotting tool. You can adjust the shape as you go (they don't have to be perfect). Once dry, take a small amount of brown paint and draw the spines of the leaves.
For the turkey you just draw the tail feathers outwards from the centre of your nail and let dry. Use your bobby pin or dotting tool create the turkey (he's essentially a circle perched on top of a half circle). Use the dotting tool to create his eyes and his orange beak. Let dry and top with a matte top coat. Suddenly your nails are good enough to eat! Poor little turkey!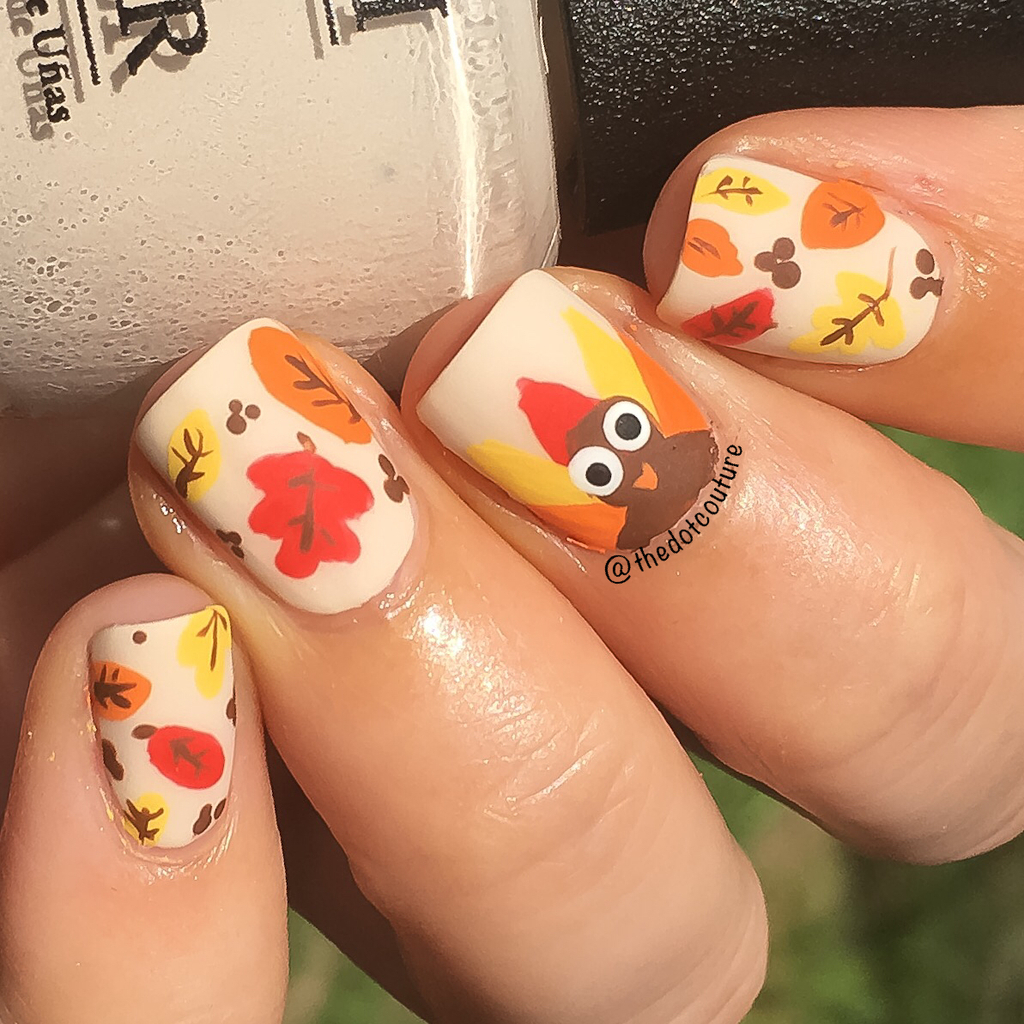 Do you celebrate Thanksgiving? If so, what kind of nails will you be sporting? I will have turkeys on my nail for sure!
You can visit me on Instagram at @thedotcouture and check out all my Halloween/Fall/Thanksgiving nail art – I sort of go crazy this time of year! Until next time, happy painting!