A dear friend of mine, Jenn over at Girly Do Hairstyles, has started a homemade auction for a 5-year old girl who is in cancer radiation treatment for the second time.
Ash is a beautiful girl, with an amazing courage! To read Ash's story, click here.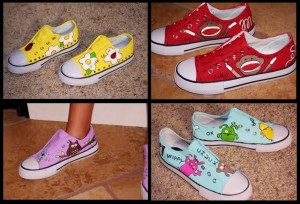 Many of us blogging mommas have donated items to help in Jenn's cause to offset Ash's medical costs. From us here at Adopt a 'Do, we are donating a pair of custom, hand-painted canvas shoes to the highest bidder on Item #17.  Be sure to check out all the items up for auction, as there are many that I am SURE you will love!
In order to bid, simply leave a comment with your bid amount on any of the 30 items listed on her site.
Yes, I paint the shoes myself and they take lots of work… so donate BIG if you can!  I may not be able to donate a personal hair tutorial session in your home, because so many of you live all over the world… but you can wear my shoes!!!
Thanks for taking the time to read this post, as it is for a beautiful cause!
Happy Hairdoing!
* Note from Mindy: Don't forget to follow us on BlogLovin, a new easy-to-use blog reader!