September 27, 2010
My Family Introduction…
Hi girls! Although you may all think that cute hairstyles are my passion… that passion really is my family!
By popular request, we decided to film a video (in HD as well) introducing my entire family… including my four daughters, my hilarious son, and my hubby. So many followers wanted to see my twins together, because twins are — well, intriguing. Others have believed that I use the same girl for most of my videos when, in fact, I am using the twins. Simply click to view the photos in a larger format…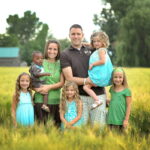 Yes, as I am sure you can tell, that the twins are identical. They may look the same, but they are very much different in the best ways. They are both wonderful helpers around the home. The oldest of the two, both almost age 11, is very much like a second mommy who is always looking out for the little ones.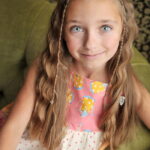 My second twin is my little homemaker who very much enjoys cooking (pretty much anything). Often she volunteers to cook dinners, and I mean all of the dinner. She was born only two minutes after her twin sister.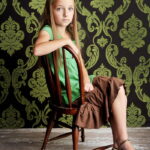 My #3 daughter, almost age 8, has perhaps the most manageable hair of all my children and I even dispell in the video the myth that many viewers have shared that she wears mascara (notice the close up). She gets so many compliments on her eyes, but I think that is funny because all my girls have the same beautiful eyes!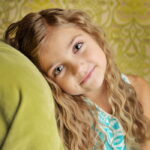 My #4 daughter has the short A-line bob haircut and is my model for our shorty do's. She is a character, and her grin always leads you to wonder what she has been up to! Her sense of humor is contagious and she's a true delight to have in the family.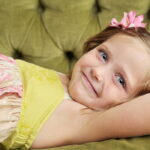 My son, age 2, really puts the exclamation point on our family! As you can tell, he keeps us all entertained and is spoiled by his sisters beyond belief! What a joy it has been having him in our family! (You can read his Adoption Story here.)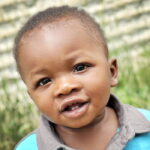 Now you can click the video to see the children all together…
Many of you have been asking what hairstyles I have used on my three oldest daughters in this video, because you do not recognize them from the site or on YouTube. I have posted one of them just last week, the Cute Teen Bun. The other two have been filmed, but have not been uploaded yet. I have to give you something to keep coming back for, right?
Happy Hairdoing!
* Note from Mindy: Don't forget to follow us on BlogLovin, a new easy-to-use blog reader!