I would like to thank all of you gorgeous ladies who supported us on Good Things Utah this past Friday. We received so many well wishes from you on the site, Facebook fanpage, and via emails. I received lots of encouragement from anonymous posters, hundreds of followers, and many of my fellow hairbloggers (left sidebar). I would also like to thank Kori at Princess Hairstyles and Jenn at Girly Do Hairstyles for posting about the GTU feature to their readers!
Since this was a local morning talk show, hundreds of you followers from long distances asked if we could obtain a clip of the segment so you could see it too! I am happy to state that Amanda at ABC4 quickly put it online and allowed us to post it here! First, I wanted to show you a few photos we took at the filming…
Here is a shot of my girls having a great time on set before filming. Obviously, they were not panicking as much as I was beforehand!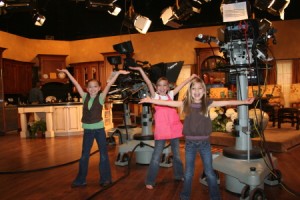 Here I am with my three daughters and Nicea and Marty…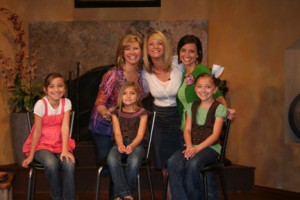 This is a photo with our ticket contest winners… Andrea, Jeanette, and Jennifer (and guests), as well as several other wonderful blog followers who obtained tickets, along with the GTU crew. Trust me, it was so much easier for me knowing these friends were in the audience supporting us!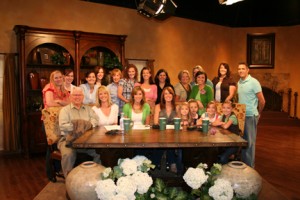 One blog follower brought her daughter along, and my girls had a great time getting to know her! All the little ones enjoyed the after-filming interviews!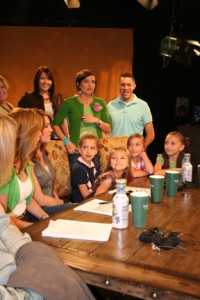 Now, here is the clip you have all been asking for!!!
As soon as the producer yelled "and… cut!", Reagan yelled out from across the studio, "Mindy, you have to come back again!" As soon as she said that, Nicea said the same thing and then later brought us back to her desk where she promptly scheduled us to return to GTU on June 25th! Can you believe that!
I do have one favor to ask each of you… to give ABC4 and Good Things Utah some love, please be sure to visit GTU's Write-up on Cute Girls Hairstyles and give them some comment sugar! If you do, each of you can place one more entry into our May's Hair Flair Giveaway! That is one more chance to win one of three $10 gift cards to Hair Flair Boutique!
Thanks again to each of you for making this site the best it can be!!!
Happy Hairdoing!
* Note from Mindy: Don't forget to follow us on BlogLovin, a new easy-to-use blog reader!