September 08, 2010
Glee Hairstyles: Quinn Fabray Tieback
So during my summer, during what little free time I had, I became hooked on Fox's summer repeat of the "Glee" musical TV series. Although the dramatic content is not suitable for children, I have shown my girls a few of the awesome musical numbers and mashups from albums that we all grew up with!
If you watch the series, you will notice that there are quite a few fun braided hairstyles worn by the girls. In my opinion, Dianna Agron's character Quinn Fabray has the most beautiful styles…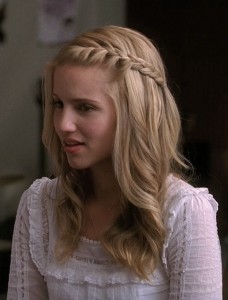 The series shows quite a few messy (loose) braid styles, and Quinn regularly sports a French Front as seen in the above photo.  This hairstyle is perfect for teens/tweens, moms, and little girls. You will also notice that hairstyles like this are extremely popular right now, so I can guarantee that you will receive tons of compliments.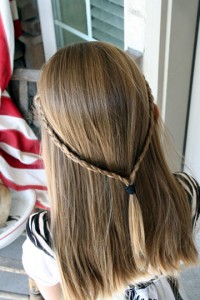 Items Needed: Rat-tail comb, spray bottle, one hairband, hairspray, (accessory if desired).
Time Requirement:  3-5 minutes.
Skill Level: Easy
The particular hairstyle I show below is a "double variation" of the style seen in Quinn's photo above, with a tieback to finish it off.  If you choose to vary the style a bit for another day, feel free to try a Dutch Braid version!
Happy Hairdoing!
* Note from Mindy: Don't forget to follow us on BlogLovin, a new easy-to-use blog reader!