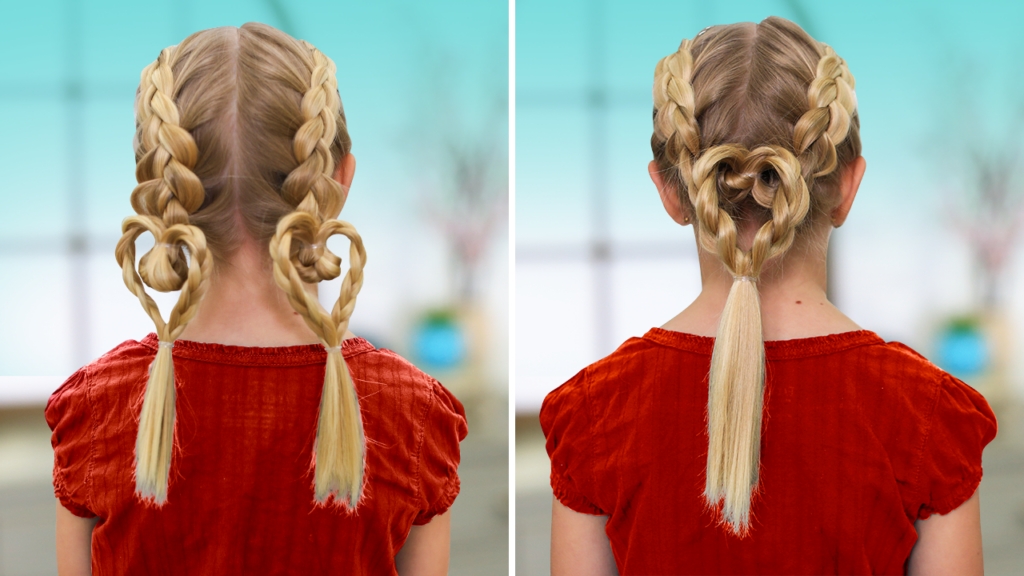 Valentines's Day is right around the corner! My niece Kilee came to visit, and she let me borrow her golden hair. We were trying out some heart hairstyles and I couldn't pick just one! The #CGHDutchHeart2in1 uses 2 dutch braids, with the only difference being 1 heart at the bottom of the braids, or 2!
Items Needed: Comb/brush. elastics
Time Requirement: 10-15 minutes
Skill Level: Medium
---
Hairstyle #1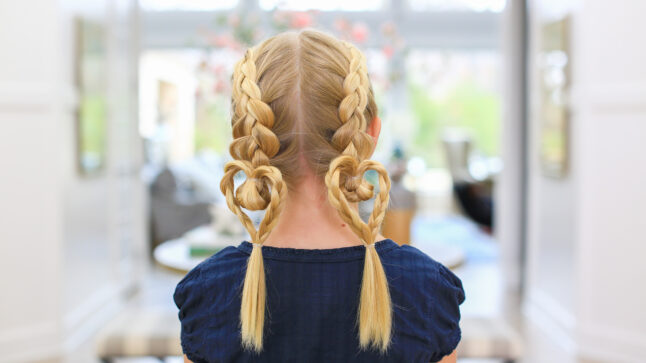 Separate the hair into 2 even sections. Secure one section with an elastic.

Starting off on the section of hair that's loose, make a dutch braid.

When you reach the neck, fold up the remaining hair and secure it with an elastic, (Tip: Make sure the elastic is holding the hair upside down so you can create the heart shape.)

Divide the non-braided hair into 2 separate pieces.

Make a 3 strand braid on each side.

Secure the braid with an elastic.

Repeat steps 4-6 on the 2nd section of the hair you set aside at the beginning.

Pancake the braids to make the braids looks fluffier and fuller.
---
Hairstyle #2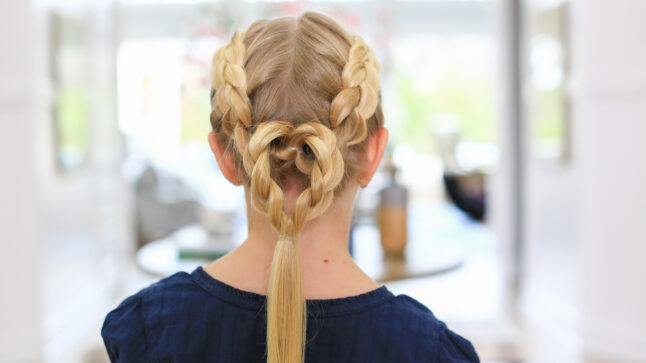 Divide the hair into 2 even sections.

Make a dutch braid on each side.

Once you reach the neck, take both braids and make a ponytail. Secure with an elastic.

Make a hole between the braids within the elastic, and flip the ponytail up towards the ceiling. Pull through

Separate the ponytail into 2 pieces.

Make a 3 strand braid on each side. Secure both pieces together with an elastic.

Tug the braid to tighten the heart. (Tip: Use bobby pins to secure and the heart as necessary)
Watch the full tutorial:
To see your own photo recreations of this style in our app, feel free to tag your photos on IG with #CGHDutchHeart2in1
---