Here is another hairdo that can help satisfy the many requests for Back-to-School Hairstyles! It is perfectly simple, and literally only takes a minute or two to do (even for dads)!  In fact, many of our styles will make for great Back-to-School looks!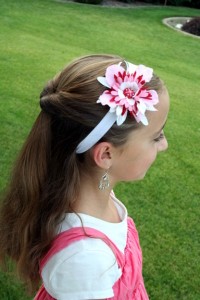 Funny enough, I filmed this hairstyle in early July and posted it on YouTube a few weeks ago. Many of you know that I just returned from Hawaii on vacation. While flying home, on the plane I watched "The Last Song" with Miley Cyrus. If you have seen the movie, released earlier this year, you will notice that Miley's character wore this hairstyle during the funeral scene near the end of the film. I thought it looked just as cute on Miley as it does on my girls! I know you will like how easy this hairstyle is to do, and is is perfect for little girls, tweens, teens, and moms! Click below to view the hairstyle tutorial…
Items Required: Rat-tail comb, spray bottle, topsy-tail tool (if you do not want to use your fingers), 1 ponytail holder/band, accessory (if desired).
Time Requirement: 2-3 minutes.
Skill Level: Easy
Happy Hairdoing!
* Note from Mindy: Don't forget to follow us on BlogLovin, a new easy-to-use blog reader!