I have received so many emails and Facebook posts regarding how much you moms and your daughters loved the Egg Tails hairstyle!  Apparently, it was  pretty much a hit anywhere your daughters went… from school Easter parties, family dinners, and Easter egg  hunts, people were commenting and taking photos! {You can review all the many Egg Tail photos and comments from our Guest Photos section on Facebook.}
I received one email in particular that was very fun!  Erika, one of our followers, put Egg Tails in her daughter's for an Easter meeting with the Governor of Nevada, Brian Sandoval, and his wife.  Here is what Erika said…
* ~ * ~ * ~ * ~ * ~ *
Hi Mindy,
I tried this hairstyle today (Easter Sunday) on my daughter this morning before we headed out to our local Governor's mansion for a meet and greet with him and his family. EVERYONE commented on her hair!! The governor's wife LOVED it soo much she couldn't stop talking about it. It was such a huge hit she got her little bit of fame by getting put on our local 5 o'clock news! Thank you soo much for this idea!
Erika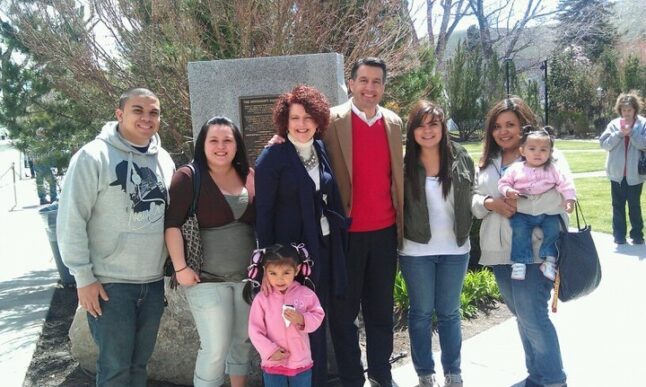 Erika, her youngest daughter, Erika's brother, his fiancée, and their little sister.
* ~ * ~ * ~ * ~ * ~ *
That is absolutely awesome, Erika!  Thanks for sharing!

* Note from Mindy: Don't forget to follow us on BlogLovin, a new easy-to-use blog reader!