We posted this heart hairstyle two years ago in photo tutorial format, but we never filmed a video for it. This is such a simple fun style for girls of all ages, that we wanted to be sure to upload it before Valentine's Day this year.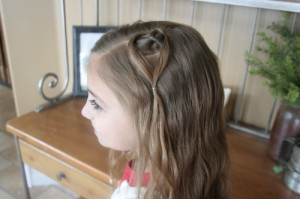 The options here are endless, as I hope to show in a few more videos later this week, but on this specific hair style you may opt to microbraid the two heart strands. I left them as twists, because they seem less "kid-ish" that way.
Also, I believe this heart hairstyle looks fantastic on straight or curly hair. In the previous photo tutorial, my daughter's hair was straight. In this video tutorial, I added volume to her hair via the subtle curls left over from our Double French Braids style (we call this using a previous day's style to create another… a "Second-Day 'Do").
The shape of the heart and whether the tail is longer or shorter, can be adjusted in any way you want (teens tend to want thinner strands and longer tails). You could even buy the colored hair spray and color the strand pink, if you wanted, for Valentine's Day!
Items Needed: Rat-tail comb, Topsy Tail Tool, pomade, two clear elastic bands, and ribbon (if desired).
Time Requirement: Under 5 minutes.
Skill Level: Easy
If you like this Valentine's Day hairstyle… be sure to let us know!
Happy Hairdoing!

* Note from Mindy: Don't forget to follow us on BlogLovin, a new easy-to-use blog reader!