If you are looking for an easy trick for the Fishtail Braid, then this ponytail style is just for you! (Although it was not my intention, feedback thus far is that this looks a lot like a fishtail and can be done in half the time.)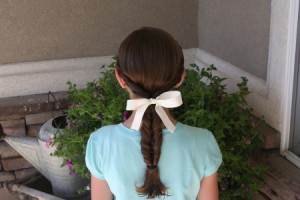 What is great about this hairstyle is that it takes literally two to three minutes to complete!  Easy peasy!
I prefer to do this style when the hair is damp, like after a good towel drying after the morning shower.  This helps control the flyaways while you twist until you can add hairspray (you can also use Pomade on the hair before twisting).
We have demonstrated how to do twistbacks like these before, but it was in photo format. You can see things much clearer and in real time by clicking the video below!  Enjoy!
Items Needed:  Rat-tail comb, two hairbands, bow or flower clip (if desired), hairspray (or Pomade, if desired).
Time Requirement: 3-5 minutes…
Skill Level: Easy
Happy Hairdoing!

* Note from Mindy: Don't forget to follow us on BlogLovin, a new easy-to-use blog reader!