June 15, 2010
Daddy Do's: 5-in-1 Simple Braids
A year ago, I started a series of hairstyles here that were so simple even a daddy could do them. We received quite a bit of feedback from moms that they loved the idea of "Daddy Do's"! I have also received quite a few emails from single fathers, or stay-at-home dads, who appreciate this website and its simple video instructions. Those men are my heroes, so when I posted some of their emails… many of you jumped in and gave them some positive comment love! As a result, I decided to post more videos in this series.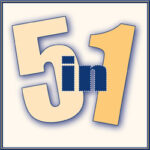 Here is a very simple hairstyle that uses two simple braids. For dads, this hairdo can be accesorized any number of different ways, but I highlight five easy ones here.  This means that you can make 5 days of hairdo's out of just one easy style!  So, girls, grab your hubbies and sit them down in front of this video for some daddy inspiration!  This will be something that your daughters will remember forever!
Items Needed: Spray bottle, rat-tail comb, two elastic bands, headband, ribbon, do rag, hat.
Time Requirement:  5 minutes (for mom), 5-10 minutes (for dad)
Skill Level:  Easy
Happy Hairdoing!
* Note from Mindy: Don't forget to follow us on BlogLovin, a new easy-to-use blog reader!