August 11, 2010
Double-Hidden Braids | Cute Hairstyles
Our children will soon be going back to school, so many of you will likely want quick and easy hairstyles for those upcoming mornings! This style is good for girls of all ages, even moms!  You can keep the part in the center like I did, or offset it a bit to one side.  For a more volumenous effect with the hair, use this as a 2nd day hairdo from our Double French Braids hairstyle tutorial…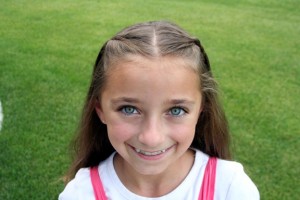 Here is a view from the side. Notice how the braid goes under the hair, essentially hiding it?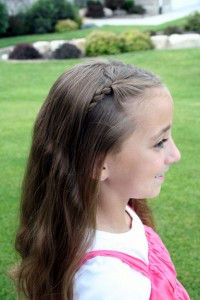 Items Needed: Rat-tail comb, spray bottle, small elastic band.
Time Requirement:  3-5 minutes
Skill Level: Easy
To view a quick video tutorial for this hairstyle, please click below…
With my two oldest girls getting closer to the teenage years, they are wanting less and less the "little girl" hairdo's. Fortunately I still have two little daughters left, so you will be getting a mixture of age styles. Let me know what you think!
Happy Hairdoing!
* Note from Mindy: Don't forget to follow us on BlogLovin, a new easy-to-use blog reader!