*Note from Mindy: Valentine's Day is just around the corner! Let's see how many V-day hairstyles we can get out on February 14th! Tell as many friends as you can, because we want to see thousands of little hearts walking everywhere!
* ~ * ~ * ~ * ~ * ~ * ~ * ~ * ~ *
We had posted this
Valentine's Day hairstyle
two years ago, but in photo format. Many have requested that this be shown as a video tutorial, so here you go! It also helps for me to be using an updated camera as well!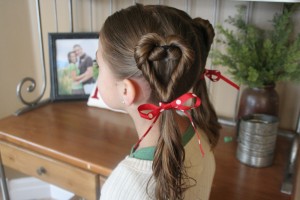 There are actually two ways to finish this heart hairstyle, one by using twists as I have done (better for older girls) and the other in braids (popular with little girls). Both are equally cute and provide just a little bit different of a look.
Back View: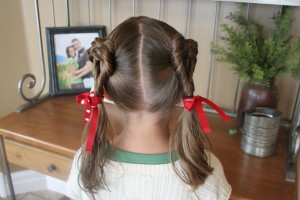 Front View: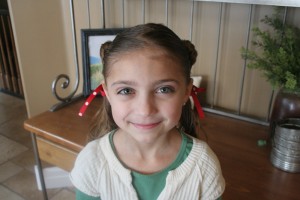 Items Needed: Rat-tail comb, spray bottle, Topsy Tail Tool, 4 hairbands, Pomade or gel (if needed), two Valentine's Day ribbons.
Time Requirement: 5+ minutes.
Skill Level: Easy
If you like this Valentine's Day hairstyle… be sure to let us know!
Happy Hairdoing!

* Note from Mindy: Don't forget to follow us on BlogLovin, a new easy-to-use blog reader!