So my girls have totally been into 'So You Think You Can Dance' (SYTYCD) lately and I noticed that for the first few weeks the girls were sporting different variations of twistback hairstyles.  Twistbacks are easy to do, so I thought I would feature one that I saw the most on the show, as it is super cute and easy to do.  Here it is…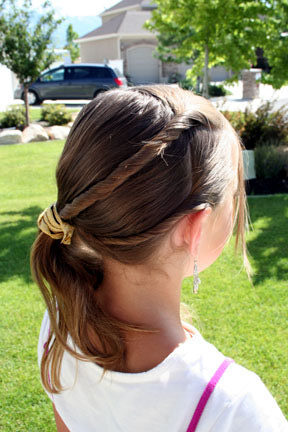 This hairstyle can be used on little girls, tweens, and teens. Even moms can use this hairdo! The style is particularly fun, because you can incorporate hair twistbacks any way (and quantity) you desire. {Be mindful, that thin hair will make the twists look very skinny, so you may only opt for one twistback per side. Using Pomade on the twisted strands will help you reduce fly-aways, too.}
As always, in hairstyles like this, if your daughter cannot hold the hair twists for you… feel free to use a gator clip or something to hold them.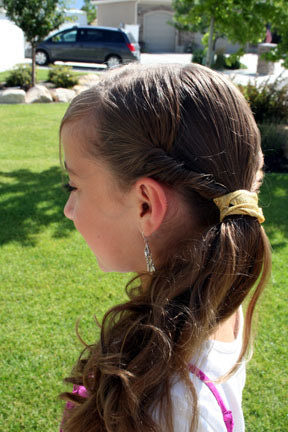 Items Needed: Spray bottle, rat-tail comb, 1 regular hairband, 1 decorative hairband, Pomade (if needed for crisp twistbacks), hairspray if desired.
Time Requirement:  5 minutes
Skill Level: Easy
If you like this style, be sure to let us know!
Happy Hairdoing!
* Note from Mindy: Don't forget to follow us on BlogLovin, a new easy-to-use blog reader!