Hello Ladies!!!  One of the most frequent requests I receive is for a "basic tutorial" on how to French braid.
Since so many of my braid and twist hairstyles incorporate the basic stranding used in a French Braid, we decided a few months back to film this tutorial. Although we uploaded it to YouTube, we never posted it here.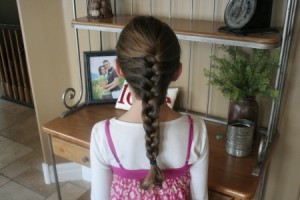 Many of you may already know how to French braid, but this video is really meant for those who are struggling, or simply do not know how.  If you have "tweeners" who are almost teenagers, and you want to help teach your daughter how to do her own hair, this is a good start.
The French braid is a doorway style to pretty much anything you can think of… if you can master it, you can pretty much do any hairstyle. (Click here if you are looking for a cute French braid hairstyle for soccer, be sure to visit the link.)
Items Needed:  Brush, rat-tail comb, one hair band, water bottle, hairspray, accessory (if desired).
Time Requirement: 5 minutes
Skill Level: Easy
Note from Mindy:  I want to thank you all for the wonderful compliments you post here, on Facebook, YouTube or via email! I wish I had the time each day to respond to them all (literally 100's), but I do want you to trust me when I say that we read EVERY single one!  Those compliments are what motivates me to keep going on this hairblog!
Happy Hairdoing!

* Note from Mindy: Don't forget to follow us on BlogLovin, a new easy-to-use blog reader!