This week I did a hairstyle that is bit of a tongue twister. My niece, Kilee, let me borrow her hair again for an adorable half-up look. The #CGHTripleFlipFlips is a cute hairstyle that will hold up all day!
To see your own photo recreations of this style featured in our app, feel free to tag your photos on IG with: #CGHTripleFlipFlips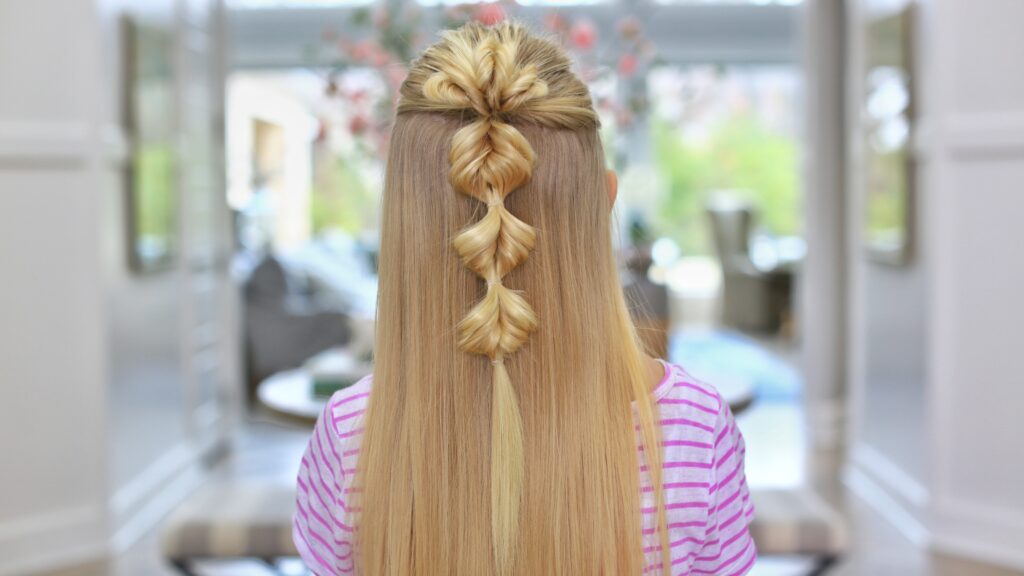 Items Needed: Rat tail comb, hair brush, 1 ponytail holder, 4-5 hair elastics, styling wax, and Topsy Tail tool

Skill level: Medium
Time Requirement: 8-10 minutes
For the full tutorial click here:
Step-By-Step Instructions:
1. Begin 1 inch above the ear, and pull the hair into an elastic. TIP: Wrap hair around the elastic to hide it.
2. Separate the ponytail into 3 even sections.
3. Put the elastic a couple of inches from the top to the middle section.
4. Repeat step 3 on the left and right sections.
5. Separate each section in half and flip the ponytail up towards the ceiling
6. Take a topsy tail down through the middle, and pop the middle section up through the topsy tail. TIP: Do not pull all the way through (leave about an inch sticking up).
7. Repeat step 6 for the left and right sections TIP: Put the the topsy tail at an angle for the side sections to get the best shape.
8. Place the end pieces together, and secure together with an elastic.
9. Separate this section in half and flip the ponytail up towards the ceiling. You can fluff and pancake the braid to give it a more polished look.
10. Depending on hair length, continue down the section of hair a couple of inches, and continue to repeat step 9.
11. To spice this look up add bows, ribbons, or any hair accessories.