I have received quite a few requests for me to show exactly how to do this elegant bun hairstyle, in the form of a video tutorial. Not a problem at all.  As you will see, this hairstyle does not appear as complicated as our Cute Tween Bun photo tutorial may make it seem…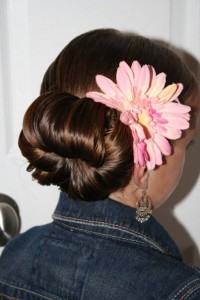 You can see that this bun is very elegant, and is perfect for Homecoming hairstyles, Prom hairstyles, for ballet, or any other fancy occasion.  You may choose to accessorize it, or leave it as is.  Now, as you watch the tutorial… notice how the roll-ups take on a somewhat "floral" look after they are bobby pinned.  It is almost like the bun appears like a tropical flower whose petals are wrapping back.  It is beautiful, isn't it?  As such, this hairdo would also be wonderful as a flower girl hairstyle.
Items Needed: Rat-tail comb, one hairband, several bobby pins (large or small, depending on hair), hairspray, accessory (if desired.)
Time Requirement: Approximately 8-10 minutes.
Skill Level: Medium
If you like this style, be sure to let us know!  Happy Hairdoing!
* Note from Mindy: Don't forget to follow us on BlogLovin, a new easy-to-use blog reader!