I continue to get quite a few requests for Updo Hairstyles, for all the homecoming dances this Fall, so here is another very elegant-looking bun style that is perfect for occasions such as prom, homecoming, dance/ballet recitals, weddings, etc.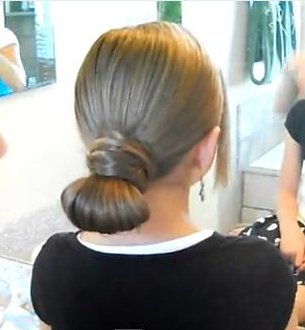 What is different about this bun style is that you wrap strands of the the half ponytail around the other half, each strand wrapped in the opposite direction. You end up with a cross-over "wrapped" bun look that is absolutely gorgeous.
This bun hairstyle is one that my #2 twin wore in our "Family Introduction" video, and can be for girls of all ages (including moms). You may also feel free to accessorize the hairstyle as desired…
Items Needed: Spray bottle, rat-tail comb, straightener, 2 ponytail holders, hairspray, 10 +/- bobby pins.
Time Requirement: 5-10 minutes
Skill Level: Easy
If you like this bun hairstyle, be sure to let us know!  Happy Hairdoing!
* Note from Mindy: Don't forget to follow us on BlogLovin, a new easy-to-use blog reader!