This Banana Pecan Coffee Cake is a moist and tender cake with a thick ribbon of brown sugar and pecans in the middle.  Drizzle this with a simple powdered sugar frosting and you have a breakfast (or snack) you won't be able to resist.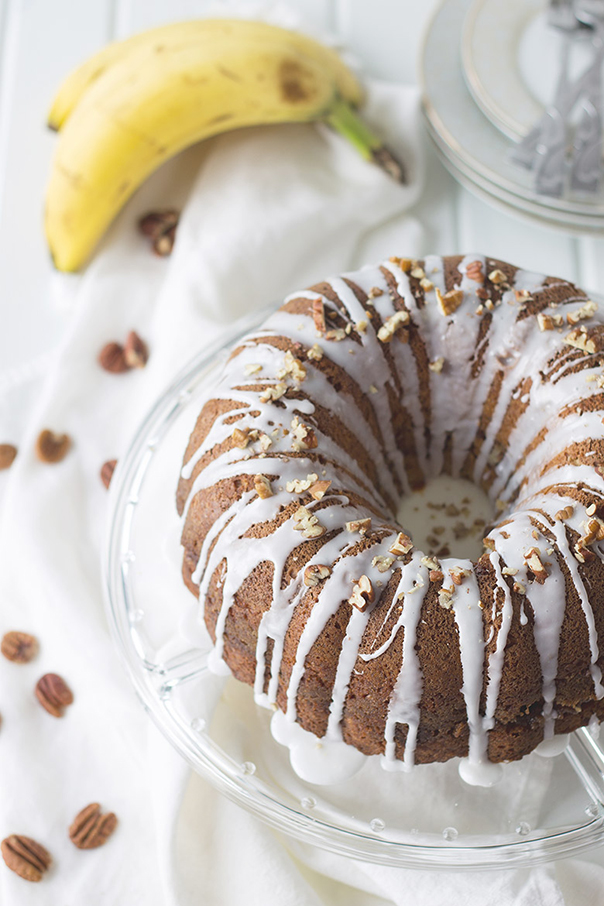 Hi there!  It's Malinda from Countryside Cravings and I am so excited to be sharing a recipe with you today!
I was wanting coffee cake the other day and I have seen several made in the slow cooker.  I made my attempts at it and failed.  It just didn't turn out as tender and light as a coffee cake should.  But sometimes that's just how experiments go.  However, I didn't satisfy my craving for a good coffee cake.  You know the ones with the nice brown sugar streusel on top.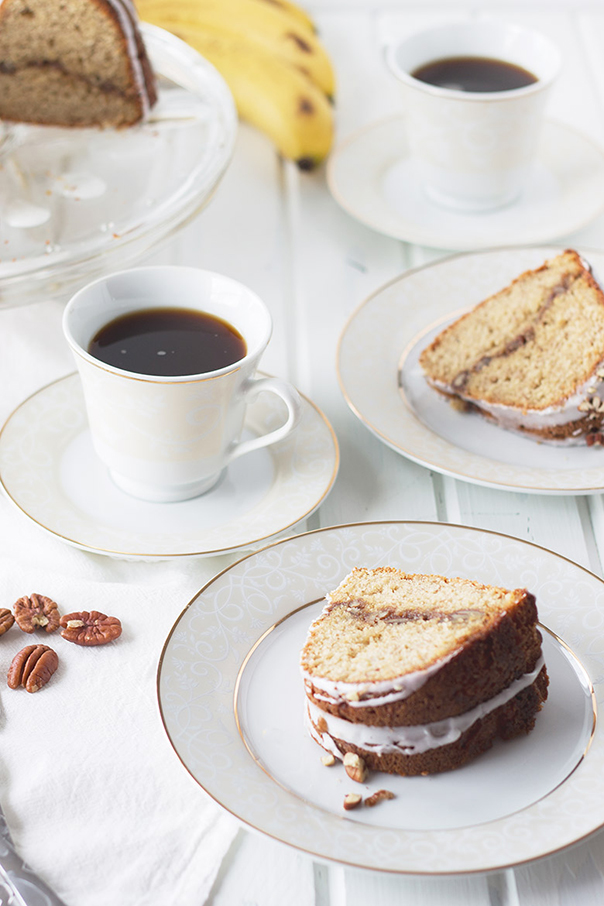 So, I put my thinking cap on and remembered I had some overripe bananas I badly needed to use.  I didn't want to make banana bread though so I decided I would make this Banana Pecan Coffee Cake with them and I am so glad I did!!
I like coffee cakes because, it's cake for breakfast for one, but they can be great for brunch, afternoon snacks, sharing with friends and family and go great with just about any occasion.  They are also pretty simple to make.
I decided to make this look fancier by using a bundt pan and putting the sweet brown sugar and pecan streusel topping the middle.  It's nothing complicated, I promise!  The banana lends its sweet flavor and adds moisture.  The brown sugar and pecan filling almost becomes a lovely caramel layer and when drizzled with a simple icing the whole cake becomes something you'll keep coming back for.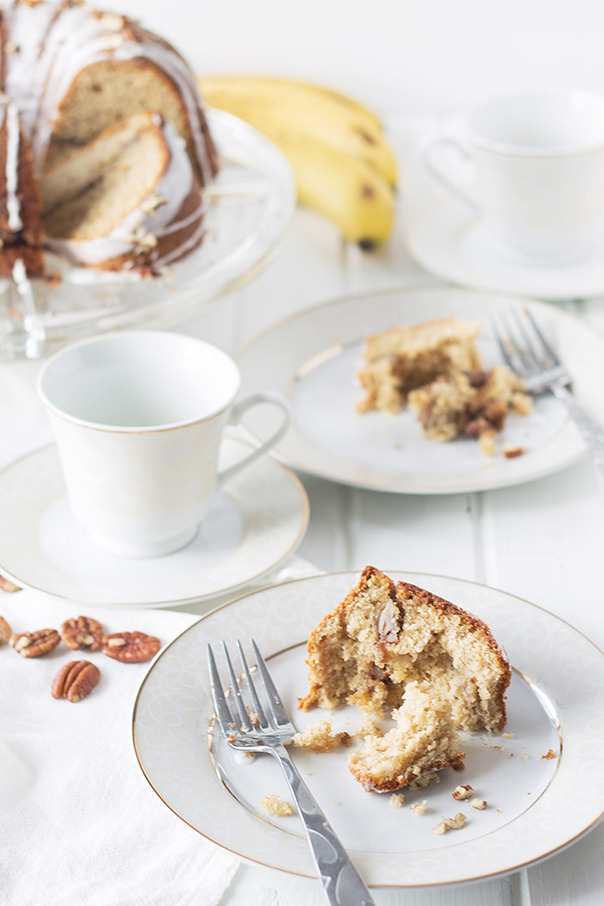 Banana Pecan Coffee Cake
Prep Time: 15 min
Cook time: 50 min
Servings: 12
Ingredients 
3 cups all purpose flour
2 teaspoons baking powder
1 teaspoon baking soda
¼ teaspoon salt
¾ cup packed brown sugar
½ cup butter, melted
2 large eggs
½ cup sour cream (can also use plain greek yogurt)
1 ½ teaspoon vanilla
3 very ripe bananas, mashed
Filling
½ cup packed brown sugar
1/3 cup all purpose flour
2 teaspoons ground cinnamon
½ cup cold butter
½ cup chopped pecans
Frosting (optional)
1 cup powdered sugar
1-2 tablespoons milk
Directions
Preheat oven to 350 degrees F.  Grease and flour a bundt pan and set aside.
In a small bowl combine the filling ingredients.  Do this by stirring together the brown sugar, flour and cinnamon.  Using a pastry blender or two knives cut in the butter until you have coarse crumbs.  Stir in the pecans.  Set aside.
In a large bowl combine the flour, baking powder, baking soda and salt.  Set aside.  In a medium bowl combine the brown sugar, butter, eggs, sour cream, vanilla and banana.  Slowly add to the dry ingredients and mix just until combined.
Spread half of the batter in the prepared pan.  Sprinkle with the reserved filling.  Carefully spread with remaining batter.  Bake for 50-60 minutes or until toothpick inserted in center of cake comes out clean.
Let stand in cake pan for 10 minutes.  Turn over onto plate to remove from pan.  Cool completely before frosting, if desired.
For frosting combine in a small bowl and drizzle over cooled cake.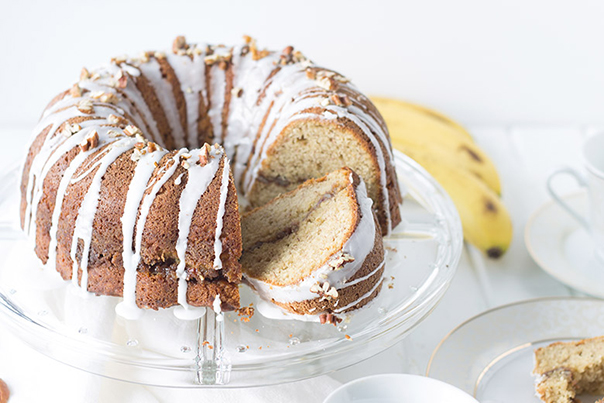 To find more delicious recipes by me check out Countryside Cravings!