It's the most wonderful time of the year! Christmas you ask? Of course not….I'm talking about Halloween!  That time of the year where we get to dress up all spooky-like and go to strangers' houses begging for candy!
Whether you do Halloween up proper or prefer the more subtle aspects of the night, it might just be the one time of the year where those who wouldn't normally do cutesy little pumpkins on their nails will. Let 's take a look at some spooky nail art you can sport for the entire month of October (I know I will be!)
Orange and Black
It doesn't get more Halloween than orange and black and jack-o-lanterns. These orange and black chevrons give Halloween a chic spin! Paint your nails a Halloween orange (this is Sally Hansen InstaDri in Pumpkin Queen). Then use nail vinyls or a stamp to create the black chevron pattern. You could also freehand this with acrylic paint. Paint a spooky jack-o-lantern face on your ring finger and top coat.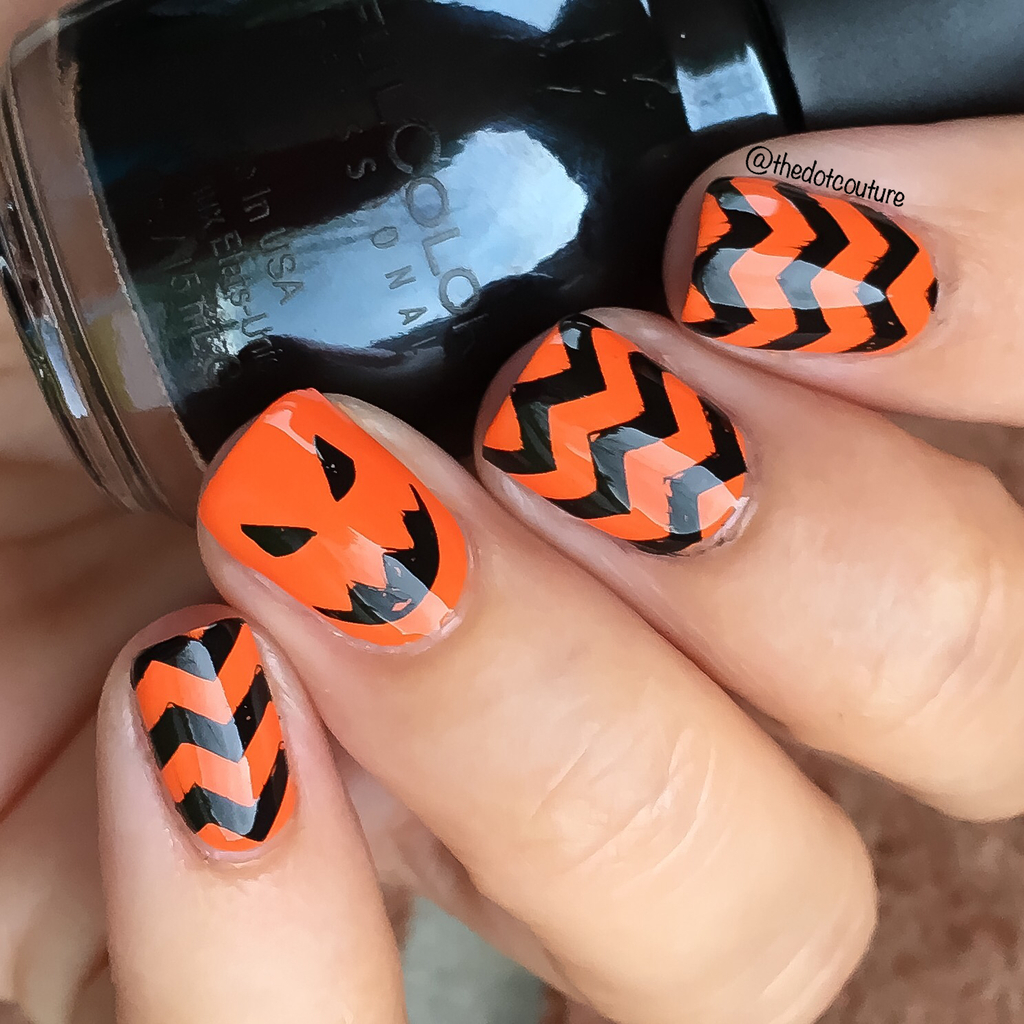 Spooky Googly Eyes
Another super easy and adorable idea are these spooky googly eyes on a black base. All you need to do is paint your nails black. Using a bobby pin or dotting tool, dab white polish to create eyes. When that's dry, add smaller back dots inside for the pupils. Let dry, top coat, and for extra Halloween drama, add a matte top coat over that.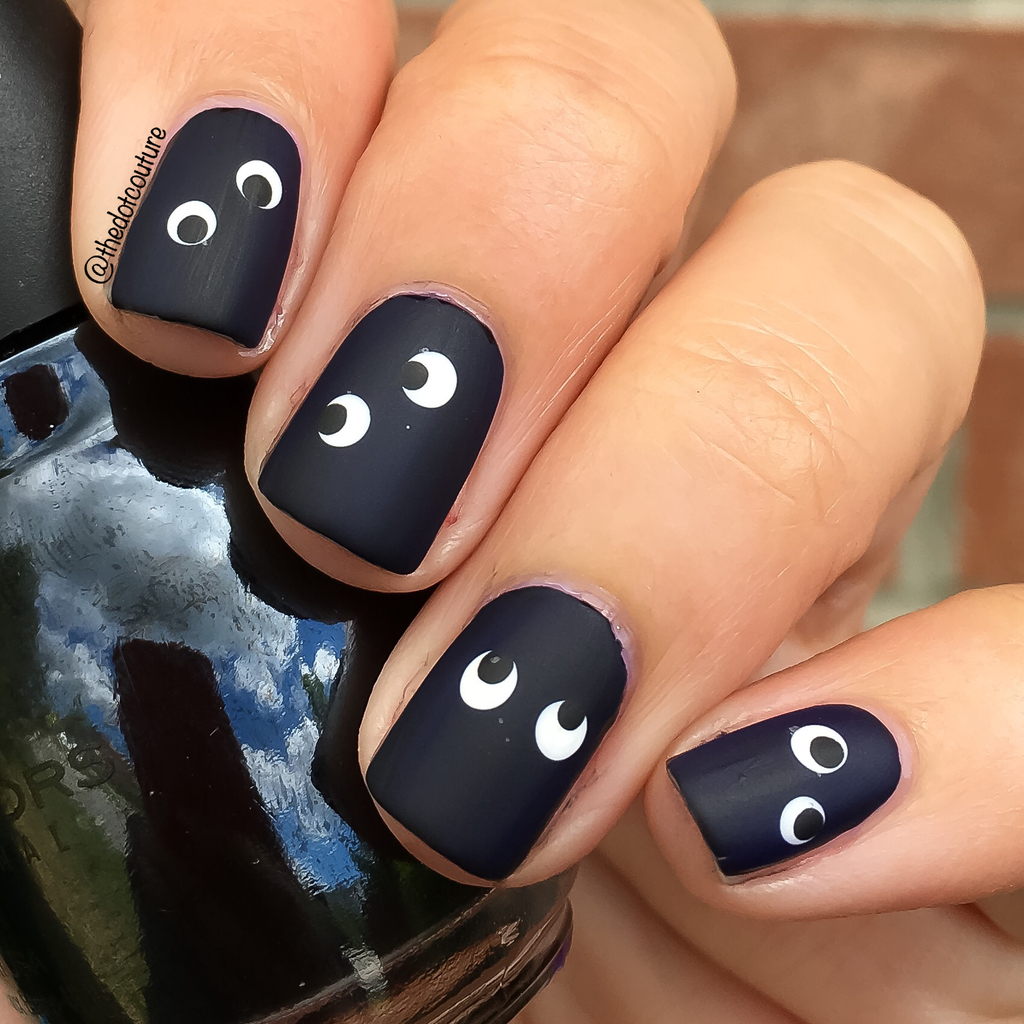 Halloween Water Spot
You can do lots of fun manis just by using the Halloween colour palette (orange, black, green, and purple). I did this water spot using all of those colours. Just fill a plastic cup with room temperature water and gently add a few drops of polish to the surface. Spray with hand sanitizer, hair spray, rubbing alcohol, or perfume (basically anything with a high alcohol content) and watch as it creates a spotted pattern on the water's surface. Dip your white-painted fingernail down into the polish and remove dried polish from the surface. Lift nail out, clean up around your nail with acetone, top coat, and away you go!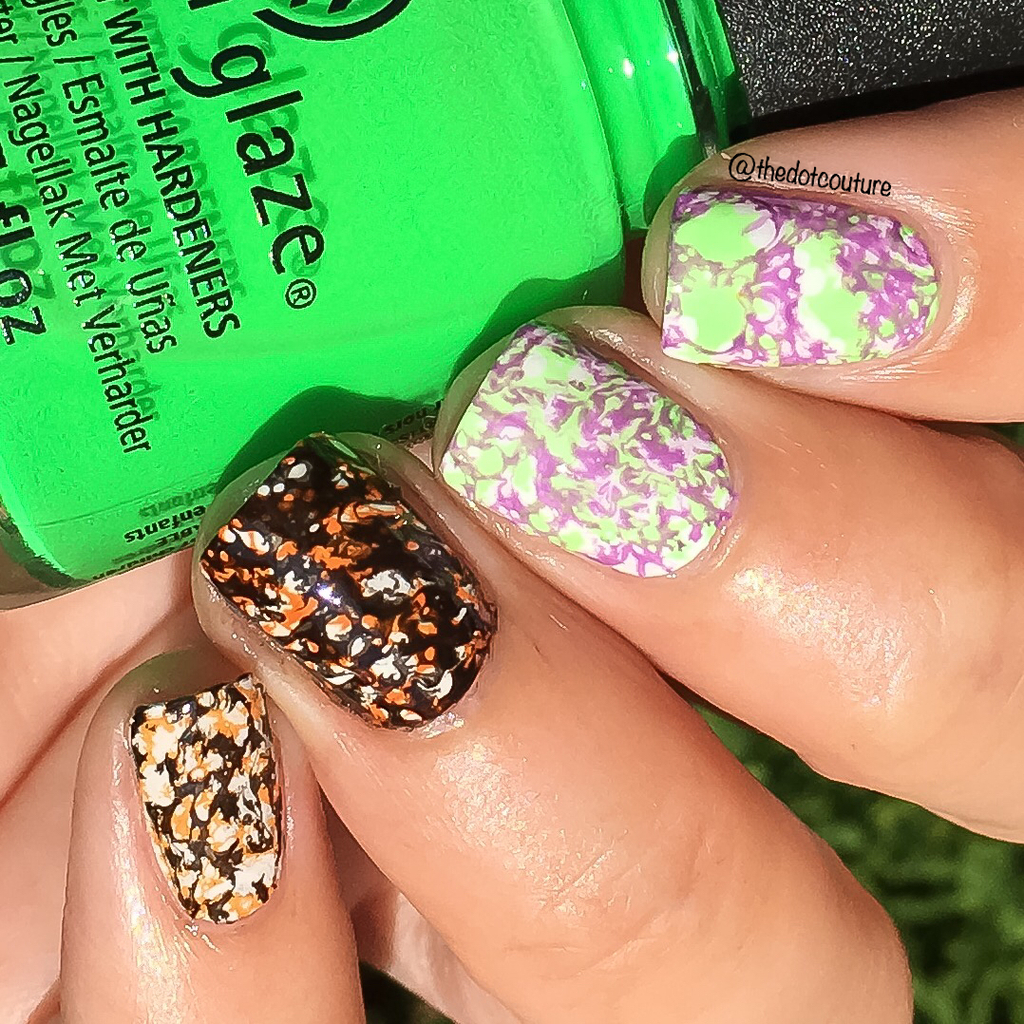 Spooky Stamps
There are SO many adorable Halloween-themed stamping plates out there – you really can just go wild!!! I stamped some cute Halloween image overtop of a black and red watermarble.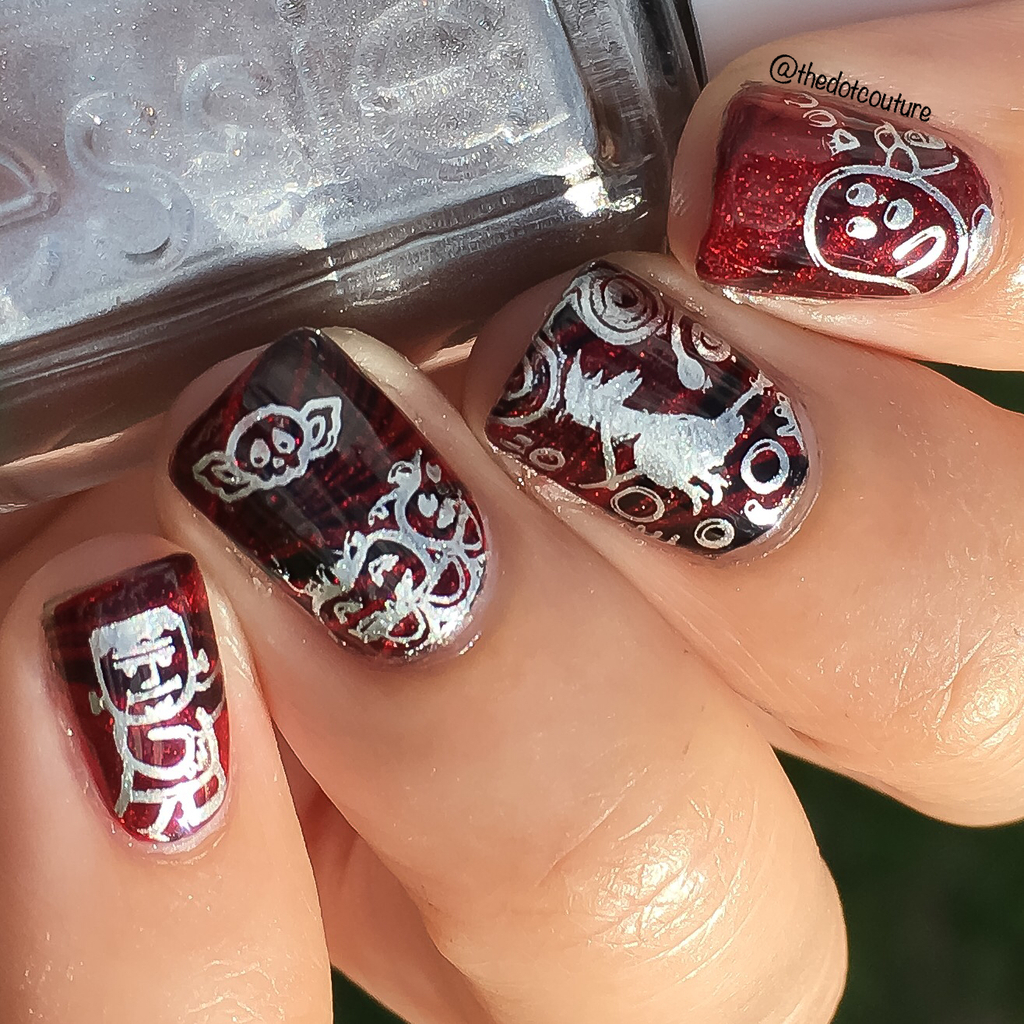 Halloween Polka Dots
Polka dots work so well in any colour palette – do them in Halloweeny colours and you have yourself a simple manicure that shows off your spooky spirit!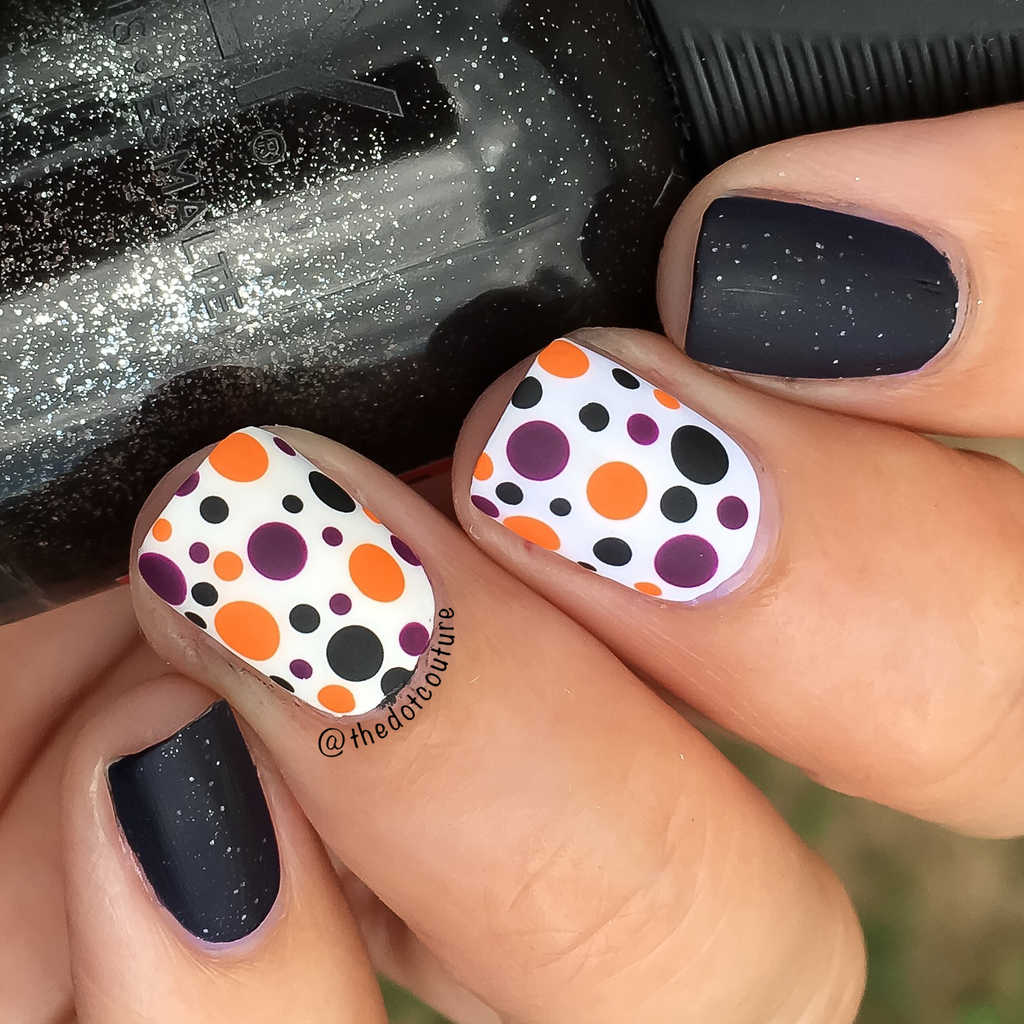 I took it even further and did a sort of Frankenstein-inspired French Tip using some orange acrylic paint!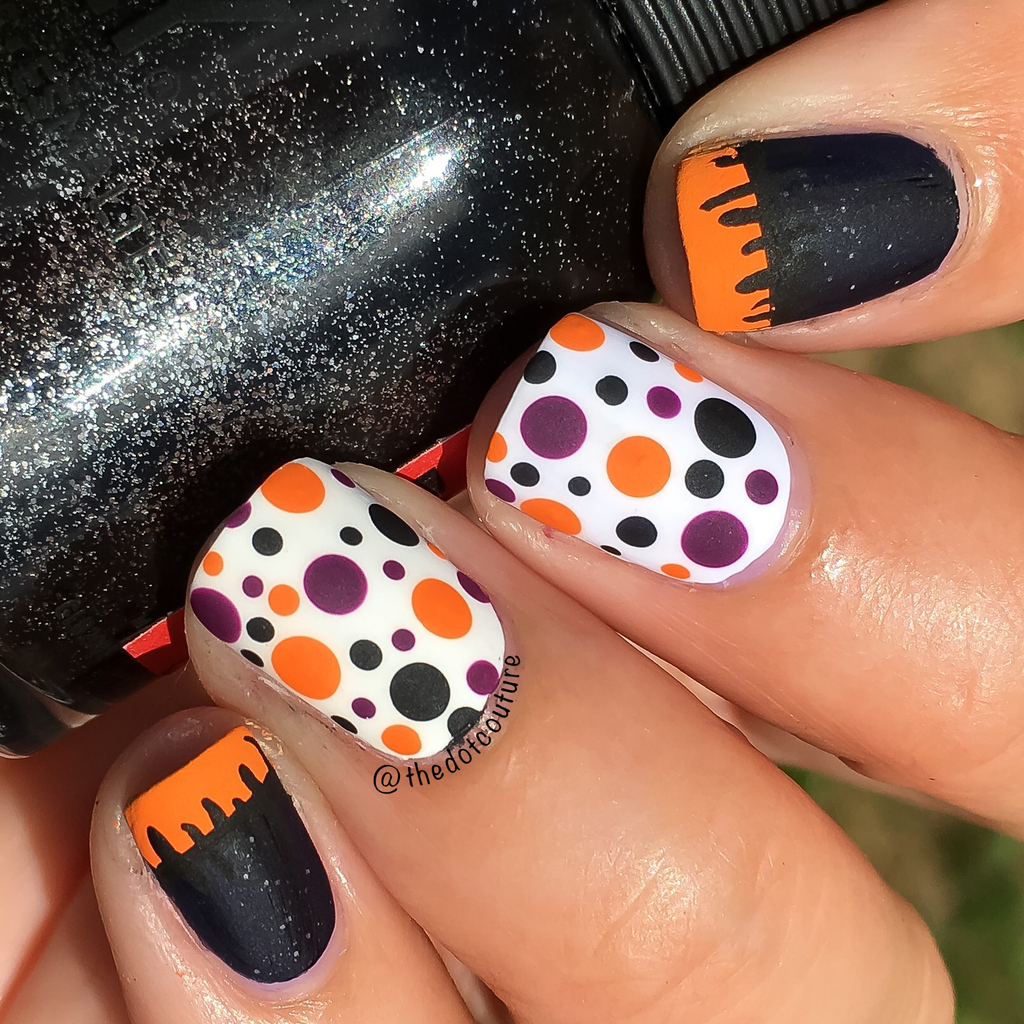 Matte Gradient
Matte nails just scream Halloween to me, I'm not sure why. I created a spooky sunset-themed gradient using purple, orange, red, and black. I then stamped over it with some Halloween images!
Holographic Spider Webs
These last nails are some of my all-time favourite nails ever. I started with a base of Orly Mirrorball, which is a silver holographic polish. I then created an angled gradient using some sheer polishes and a makeup sponge (these are OPI Color Paints).
It looks so pretty on it's own!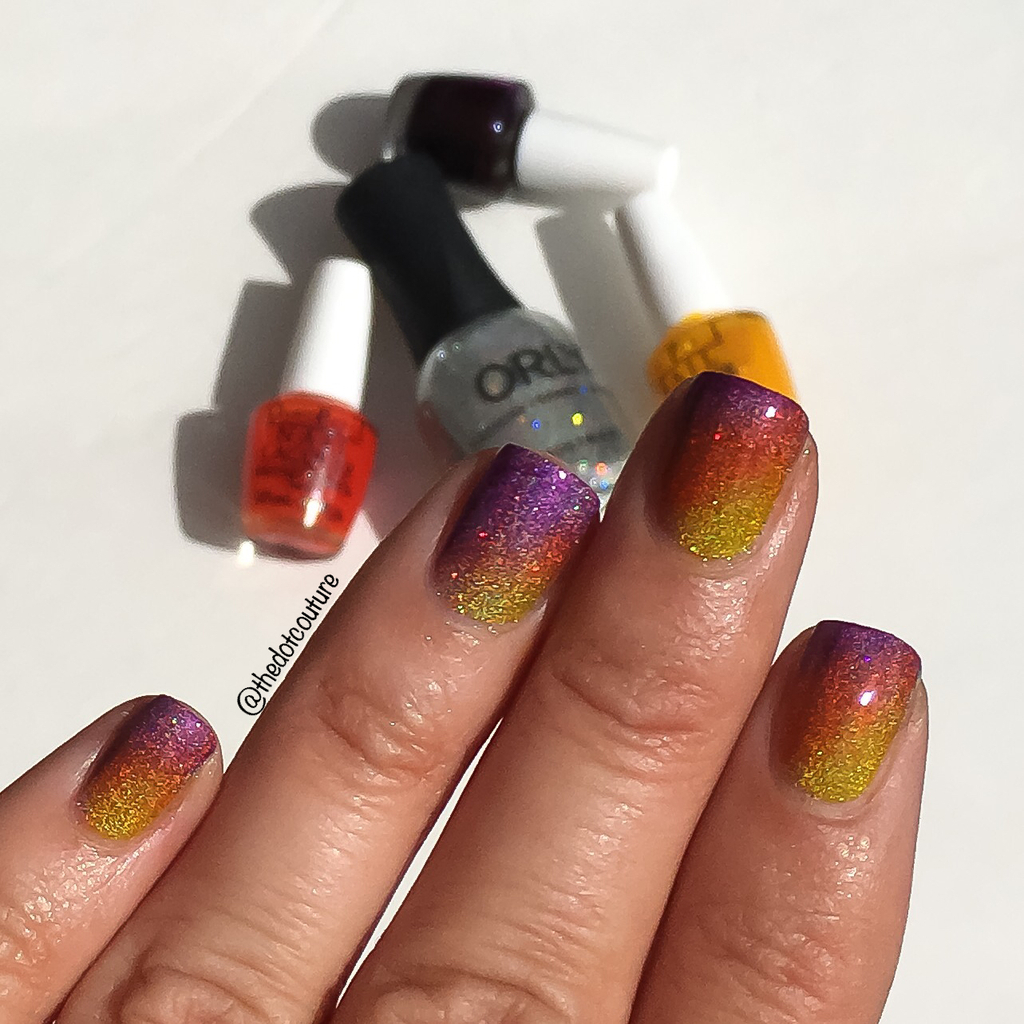 Then I stamped some spiderwebs over that – because what's Halloween without some creepy disgusting holographic cobweb-y nails right?
I hope you give some of these a try this haunting season!  What are you going to be for Halloween? Personally I'm thinking a pumpkin or a witch myself.
If you would like to see more spooky nail art come find me on Instagram at @thedotcouture – Halloween er I mean October is my favourite month of the year!
Until next time, happy painting!