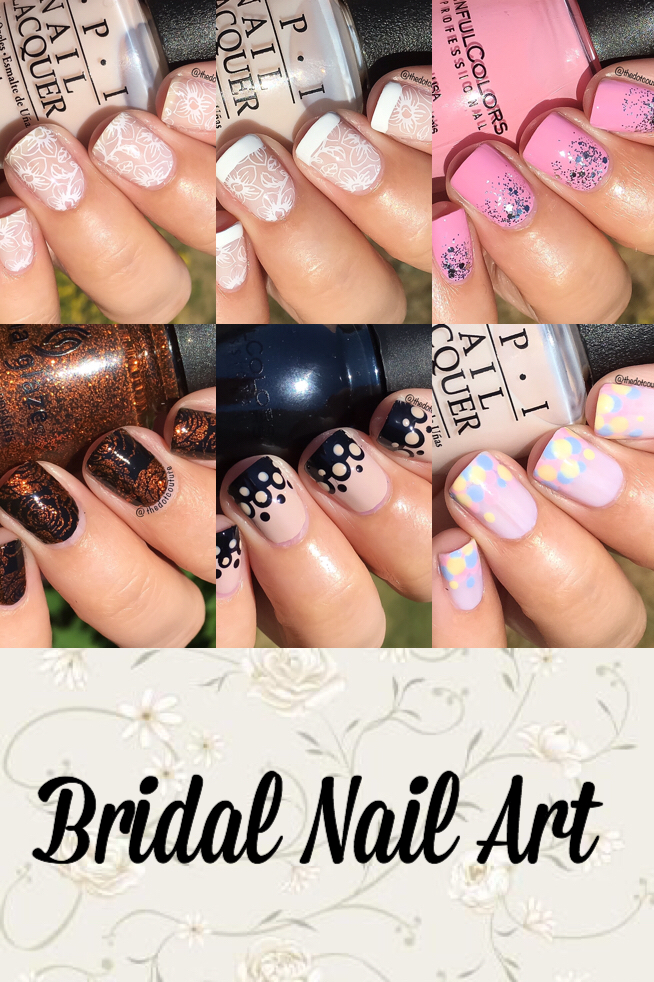 Hi everyone!!! With July upon us, 'tis the season for all things wedding! And with weddings comes….nail art!  Whether you are attending a wedding, standing up for your bestie, or the star of the show, there's no need for plain nails come the big day. You can do these looks at home or bring them to your local salon to do for you.
Delicate stamping over a very sheer base is a great way to have interesting nails that don't distract. For this look you need a very sheer, almost white polish (this is OPI Act Your Beige). Do 2-3 coats and then stamp a delicate floral or lace pattern on top, using a white stamping polish.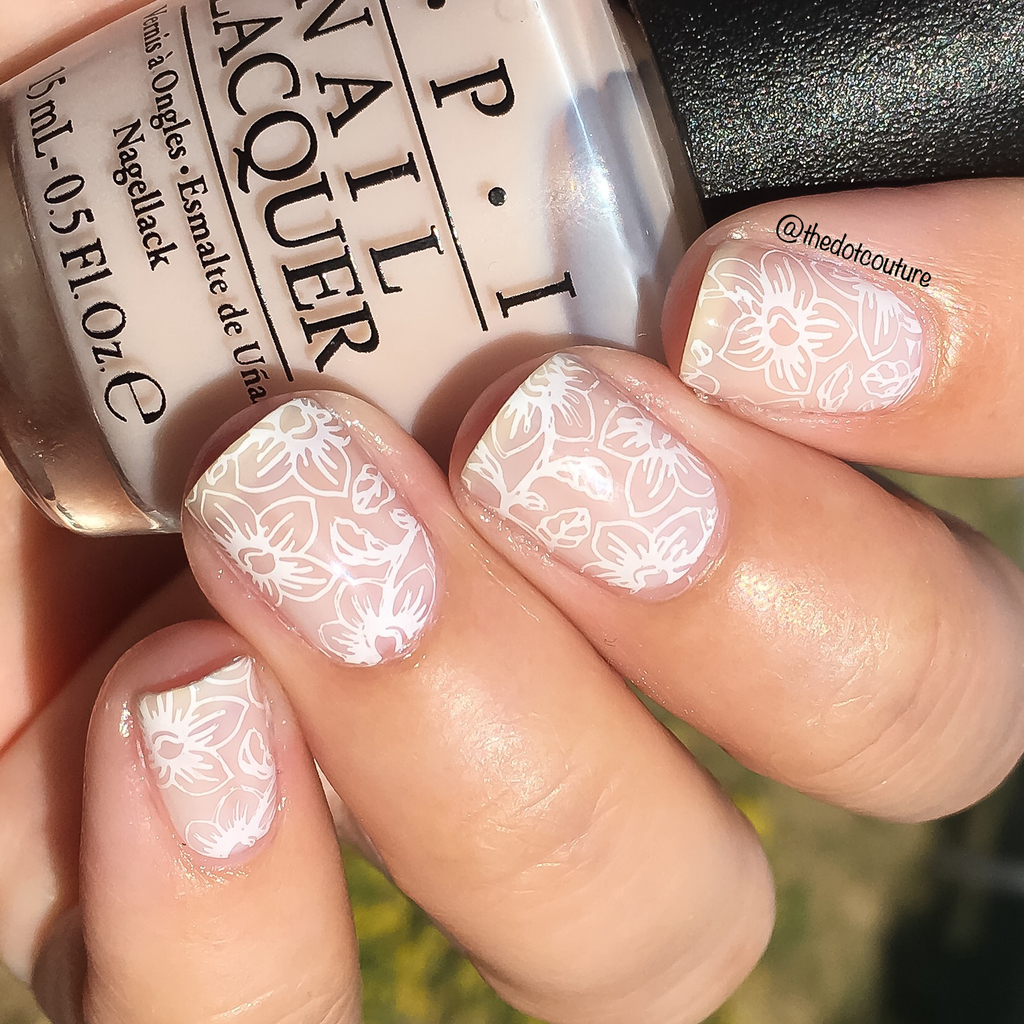 To mix this up a bit you could use a sheer polish that has more of a pink tint to it. Or you could add a French tip to the bottom portion of your nail (I did this just using the brush of my stamping polish in a sweeping motion from left to right across the bottom third of my nail).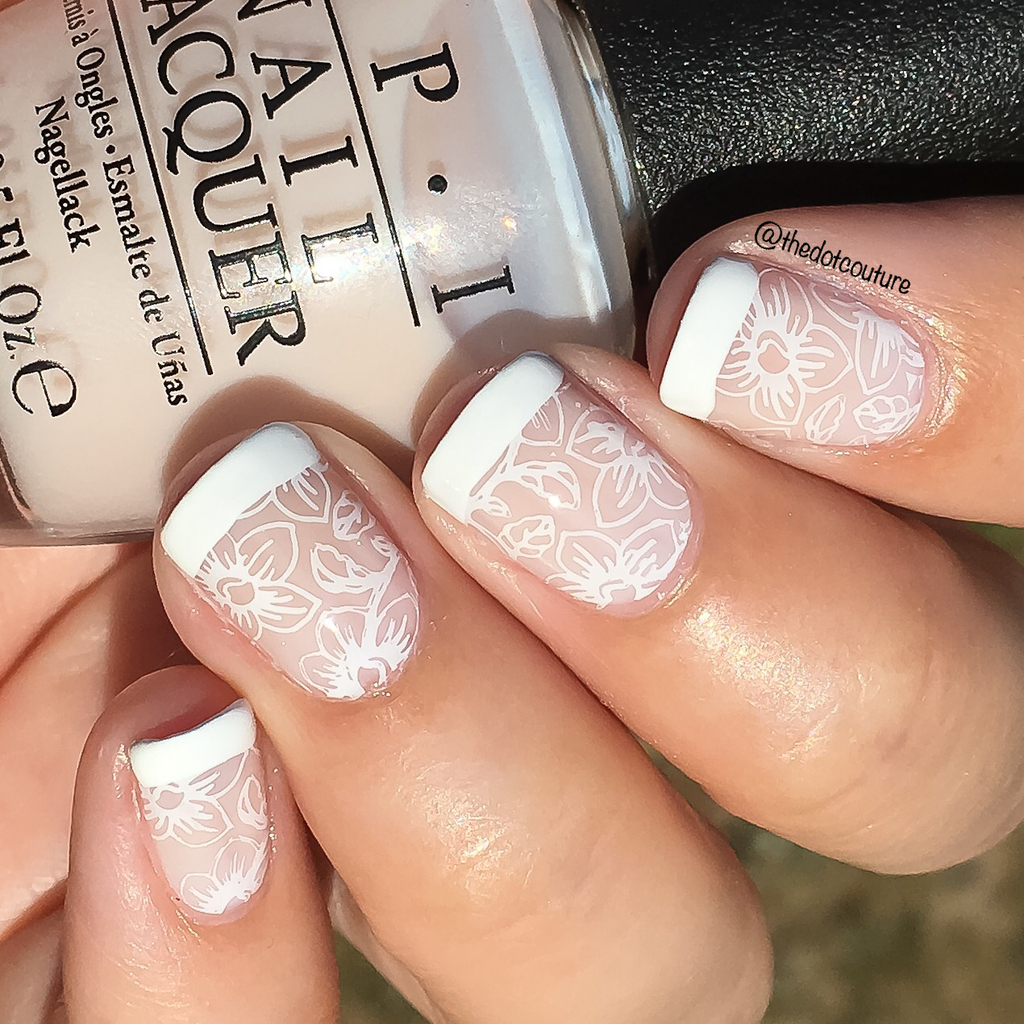 These nails would compliment any dress (colour and style), and would look timeless in photos.
If you want your nails to pop more, these ultra girly pink nails with a silver glitter gradient would fit the bill perfectly: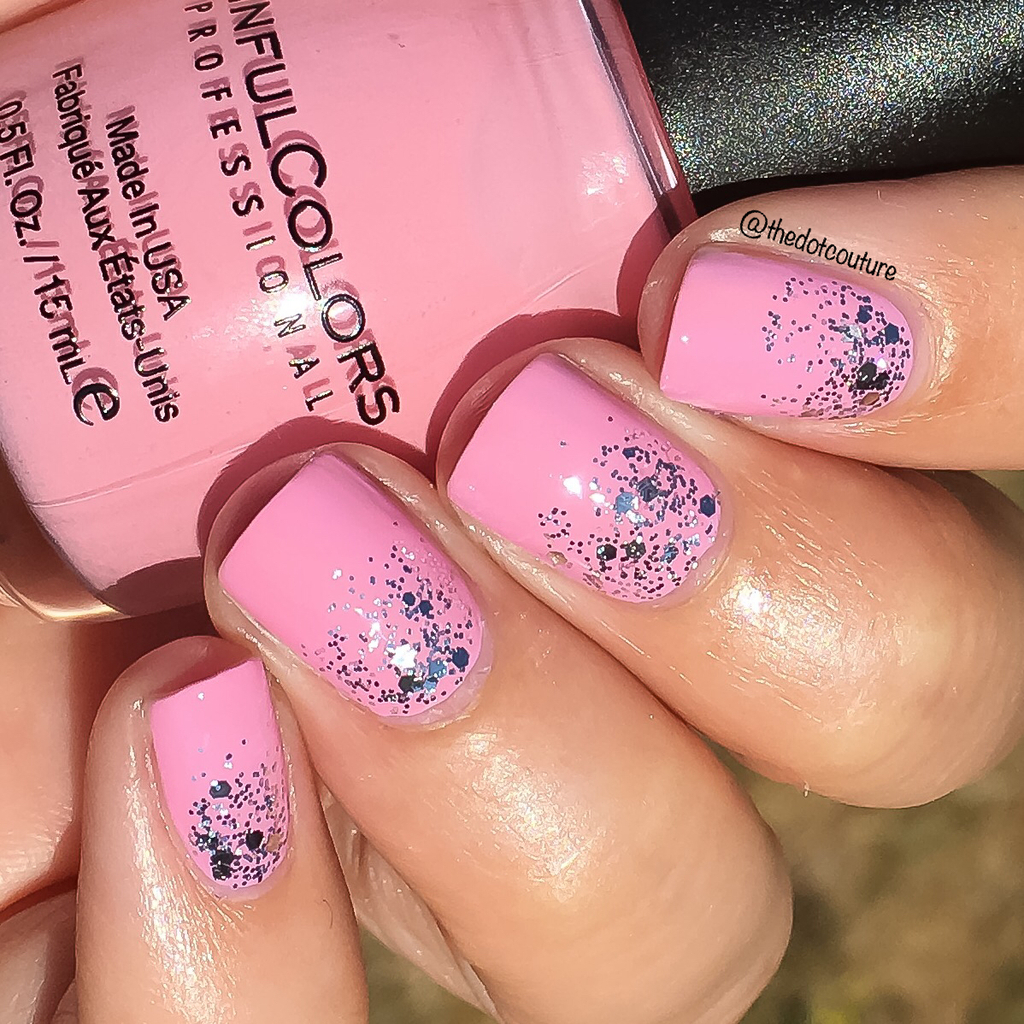 You could use a lighter pink for a more subtle look, a white nail with a complimentary coloured glitter – the combinations are truly endless. For this look I painted my nails two coats of Sinful Colors Pink Smart, and then dabbed on some silver glitter to the top half of my nail, focusing more up near my cuticles. Truly easy and eye-catching!
I always think of weddings when I see nude and black together. I guess because the combo is so striking yet incredibly classy. This is sort of a faux lace look I created with just the end of a bobby-pin.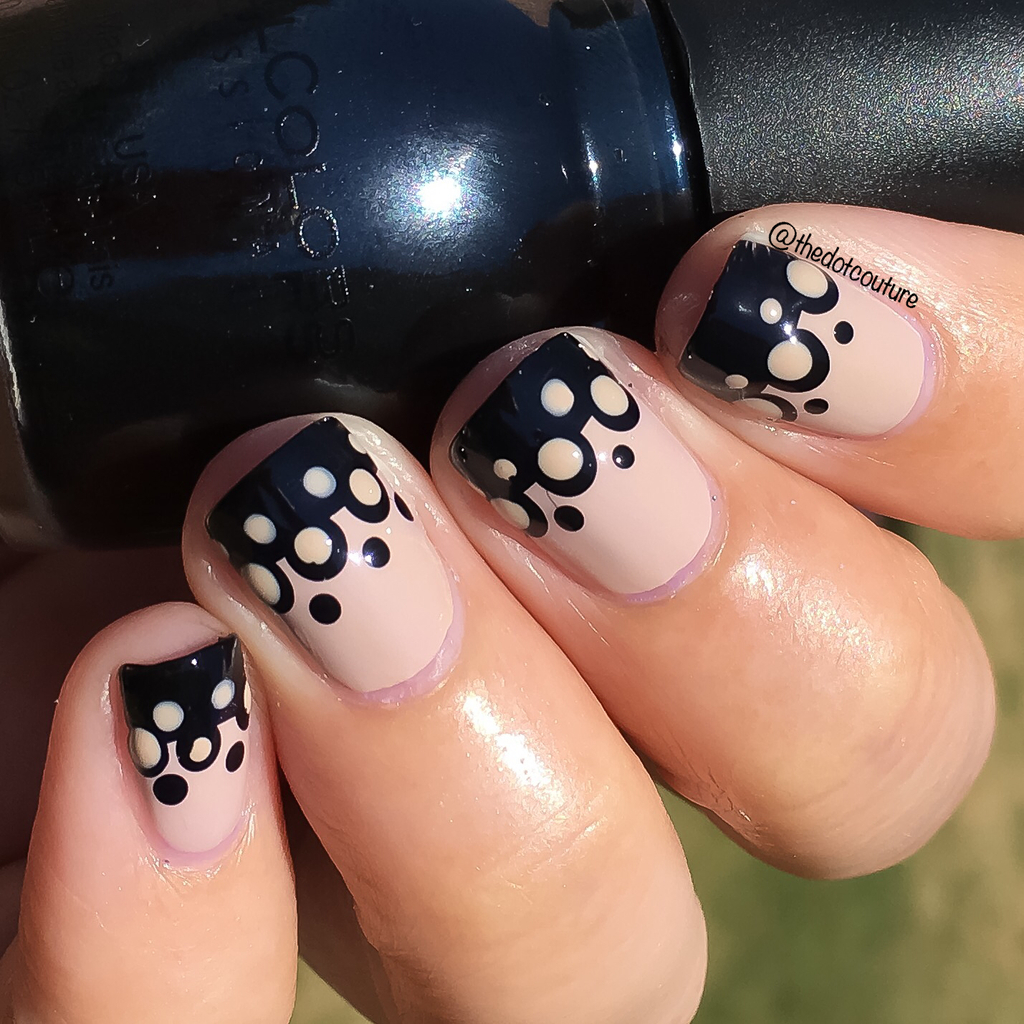 I painted my nails a nude base, and then painted the bottom third of my nail towards the tip a solid black using a left to right sweeping motion. Using the end of a bobby pin, I did three black dots where the black meets the nude. I added a couple of smaller black dots above that. After that dried, I used the nude polish to dot inside the black dots. Again, I added a couple of smaller nude dots in the black bottom part of my nail. You could mix this up and do black and white, red and black, whatever would work with your wedding scheme/dress.
Next we have this fun and whimsical look. I used two coats of the sheer white polish and then did dots with various polish colours (pink, blue, and yellow) on the bottom half of my nail, overlapping them somewhat. When they were dry I did one more coat of the sheer polish creating what is known as a "jelly sandwich" – the sheer jelly polish sandwiches the polka dots. This makes the look softer and more feminine by toning down the intensity of the polka dots and blending them all together.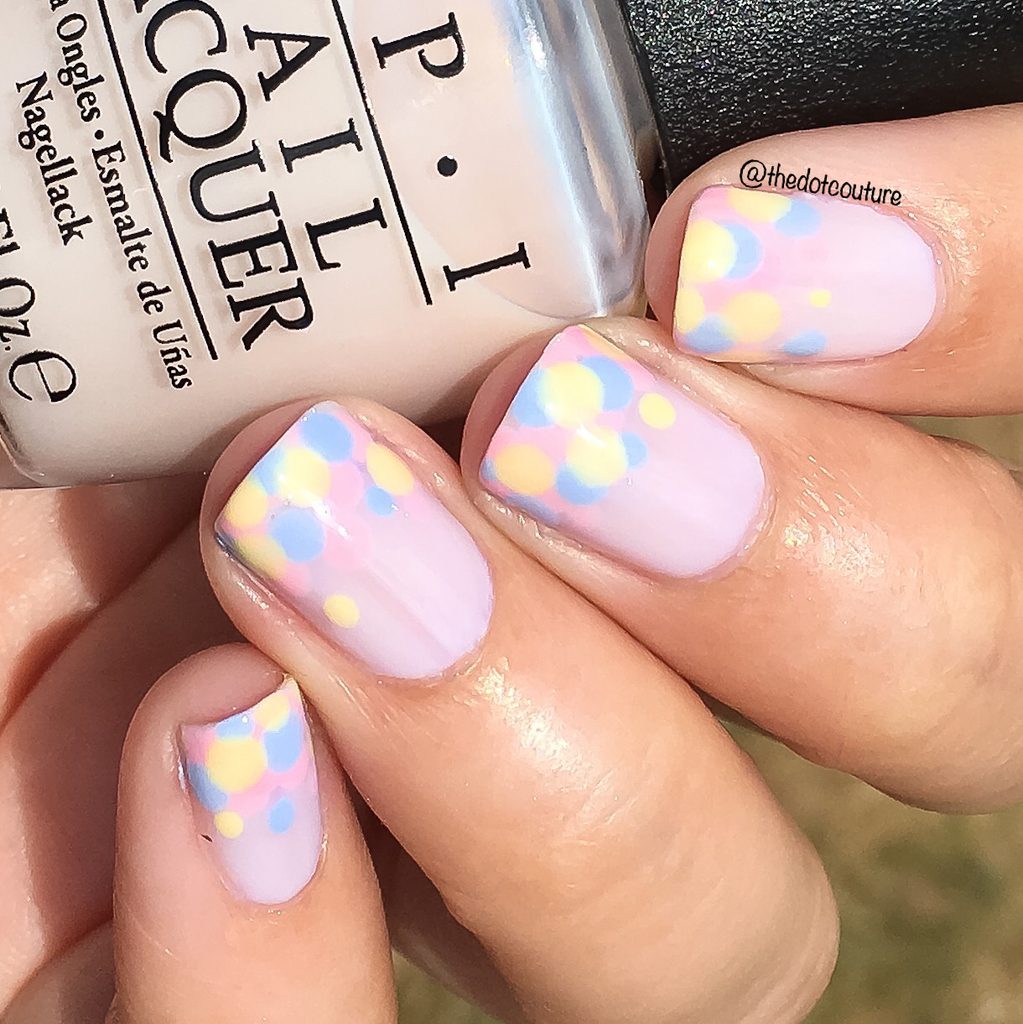 And for the bride (or party guest) who wants to get noticed – here is a spin on a floral mani (and roses no less!).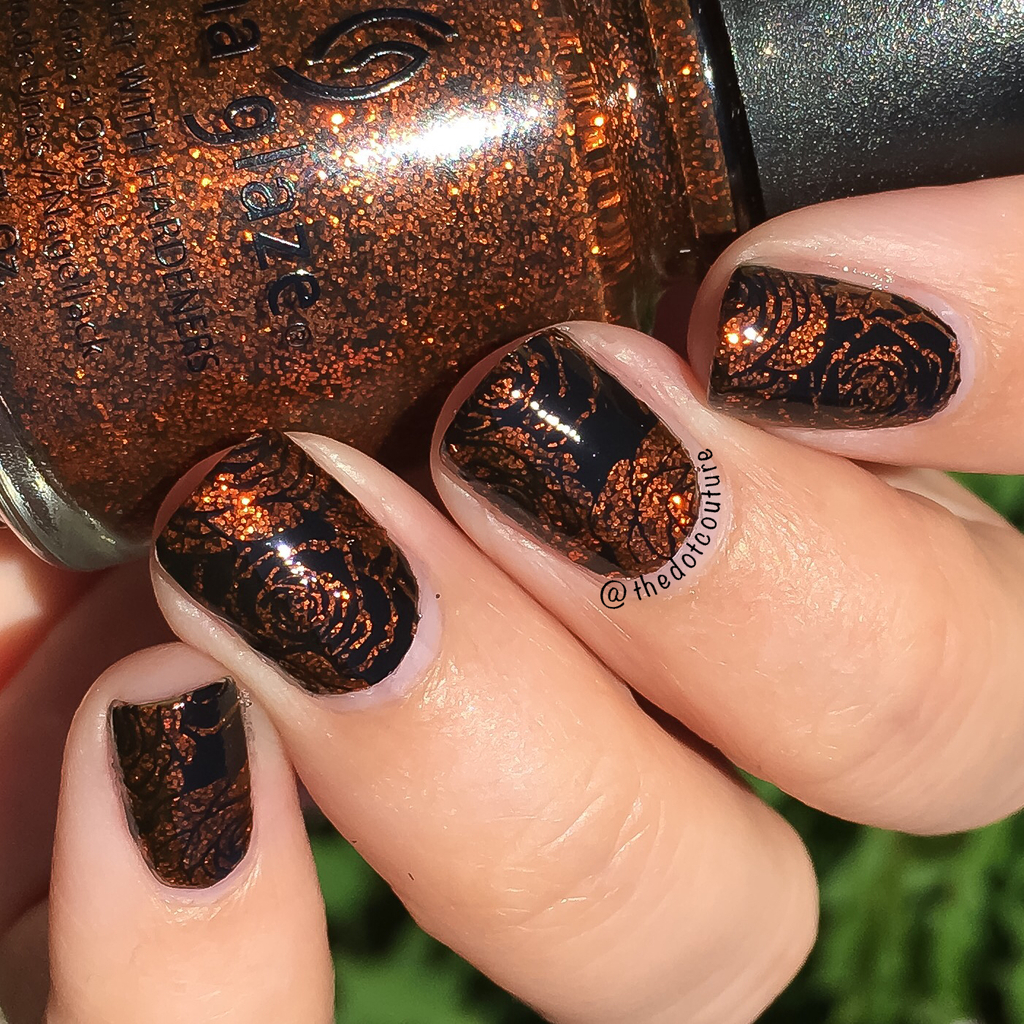 I painted my nails a base of this orange/copper micro glitter and then stamped a negative space rose image using a black stamping polish. I LOVE these so much!  They are unique and eye-catching without being too flashy.  You could use ANY base colour for this and it would look fabulous.  I like the low contrast between the darker micro glitter and the black.
Which nails would you pick for your wedding?  I think I'm a micro glitter and roses gal myself!
I like to hang out on Instagram and post pretty nails so please feel free to come visit me at @thedotcouture. Until next time, happy painting!