This past Thanksgiving was the first time in nearly a decade that my husband's entire family was able to get together to eat, play and make fun family memories. One of my creative sister in laws gathered the 25 kids together one afternoon for a fun treat – homemade donuts! (What kid doesn't LOVE donuts?!) Her method for making this special treat is one that I will use from now until forever – frying refrigerated biscuit dough! You can forget all about making a special dough that takes hours to prepare. These donuts taste just like the ones you buy from your favorite donut shop! Don't believe me? Give them a try!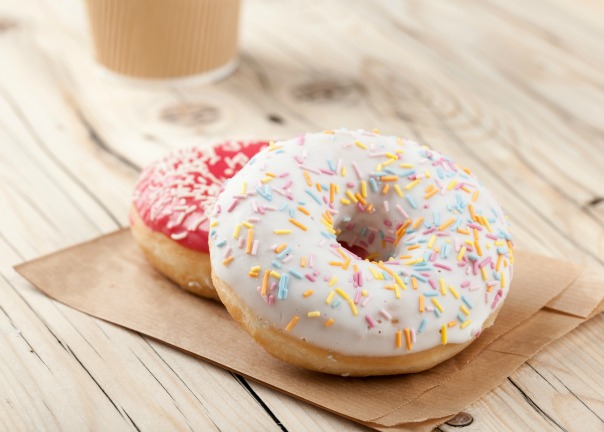 Homemade Donuts
makes 8 donuts and 8 donut holes
INGREDIENTS: 
Donuts-
1 tube of refrigerated biscuit dough (I used Pillsbury Grands)
vegetable oil (enough to fill your frying pan so your raw dough is completely submerged.)
Icing- 
powdered sugar
milk
-OR-
your favorite store-bought frosting
Decorations- 
sprinkles
cinnamon & sugar
crushed nuts
your favorite donut toppings!
DIRECTIONS: 
Donuts-
Heat oil over your stove in a large frying pan on medium-high heat.
Pop open the tube of biscuits and flatten each of them just slightly with your hand.
Press a small round cookie cutter into the center of each biscuit and pop out the middle. (If you don't have a small cookie cutter, the cap of a water bottle or a small medicine cup both work!)
Gently place the dough into the oil and watch carefully as it begins to brown. Flip the dough with some tongs once the underside is golden.
Continue frying until both sides of your donuts are light brown and cooked through the center.
*Tip- if your donut is not cooked in the center, turn the heat on your stove down just a bit. This will help them cook slower so the outsides don't burn.
Remove from the oil and place on a plate lined with paper towels. Pat the excess oil off and let it cool.
Frosting-
Mix a splash or two of milk in a small bowl of powdered sugar and mix it until it it reaches the consistency you desire, adding more milk as needed.
-OR-
Buy frosting from the grocery store and heat it up in a microwave safe bowl. As it heats, the frosting turns into a runny liquid, perfect for dipping one side of a donut! (This is the best way to get a ton of flavors for your icing!)
Decorate- 
Once your donuts have cooled enough for the kids to handle them, dip one side in frosting and decorate with sprinkles -OR- dip both sides into a simple cinnamon/sugar mixture.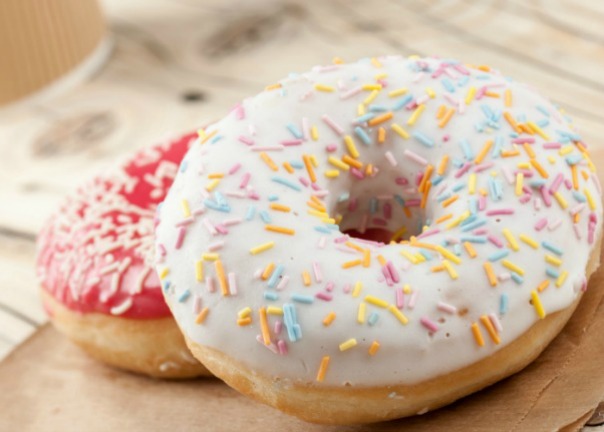 If you're a visual learner like me,
CLICK HERE to see a video tutorial of this step-by-step process!
Eat & ENJOY!!!