Hi there, happy summer! I'm delighted to share this Patriotic Cake Roll with you today, a fun and festive dessert to bring to the 4th of July Bar-BQ you may be attending, or just a fun treat to make with your family.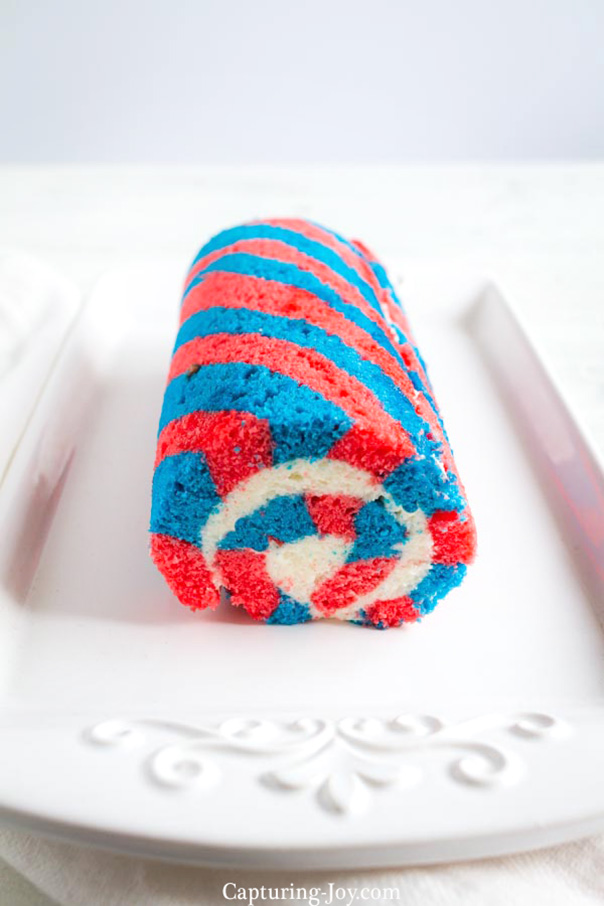 It's a bit of a time intensive process, but well worth it for the final reveal. You may have seen this before as a pumpkin roll. They are my FAVORITE in the fall. Just like that dessert, this has a delicious cream cheese filling in the center, outside is a doctored cake mix from a box, but in a patriotic red, white, and blue!  I got the idea for the stripes from a rainbow roll I found from Hungry Happenings, but I used my own cake recipe and filling.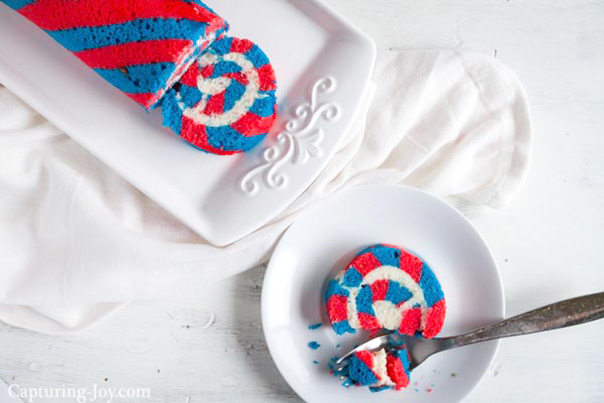 INGREDIENTS
Cake:
1 box vanilla, white, or yellow cake mix
1 cup sugar
1 cup all purpose flour
1 cup water
3 eggs
1 tsp vanilla extract
1 cup plain greek yogurt
Filling:
1 package (8oz) cream cheese, softened
1 cup powdered sugar
6 tablespoons  butter, softened
1 teaspoon vanilla extract
DIRECTIONS
Heat oven to 325 degrees
In a large mixing bowl, combine cake mix, sugar and flour.  Mix to combine.
Add in water, eggs, vanilla extract, and yogurt to the dry ingredients and mix well using an mixer.  Mix for approximately two minutes.

Line bottom of two 10×15-inch jelly roll pans with parchment paper sprayed with baking spray.

Divide batter equally among 2 bowls.

Use red and blue color paste to each bowl of batter until you get a rich color. Paste will give a darker color than standard coloring. I like to use Wilton paste.

Pour batter into individual sandwich sized zip-lock bags, zip to close

Snip the tips off the bags and start layers of colored stripes at an angle across one pan. Alternate blue and red until complete. Continue until both pans are filled with stripes.

Bake for about 10 minutes.

Immediately flip cakes out of their pans, peel off the parchment paper, flip over onto a clean piece of parchment paper and immediately roll up the cake along with the parchment paper. Let it sit at room temperature for 10 minutes, then refrigerate for one hour or more until cool.

Make the filling by beating cream cheese, powdered sugar, butter, and vanilla until well blended.

When the cakes are cool, unroll carefully, peeling the parchment paper off as you go.

Spread half of the frosting over top of each cake, then tightly re-roll.

Refrigerate until ready to serve, cut into slices to serve.
*If you don't care for cream cheese, you can also use any type of frosting.
Now, if you're like me, you may like a visual step by step for this process, as it's hard to picture, so I took a few for ya!
(NOTE: I made this recipe twice, and the first time with the step by step pictures, the colors were softer than I wanted, so the second time, I added more coloring. You'll want LOTS of coloring for a rich, dark color)

After the cake bakes, pull off the first parchment and place it on a new parchment paper to cool, and roll it up.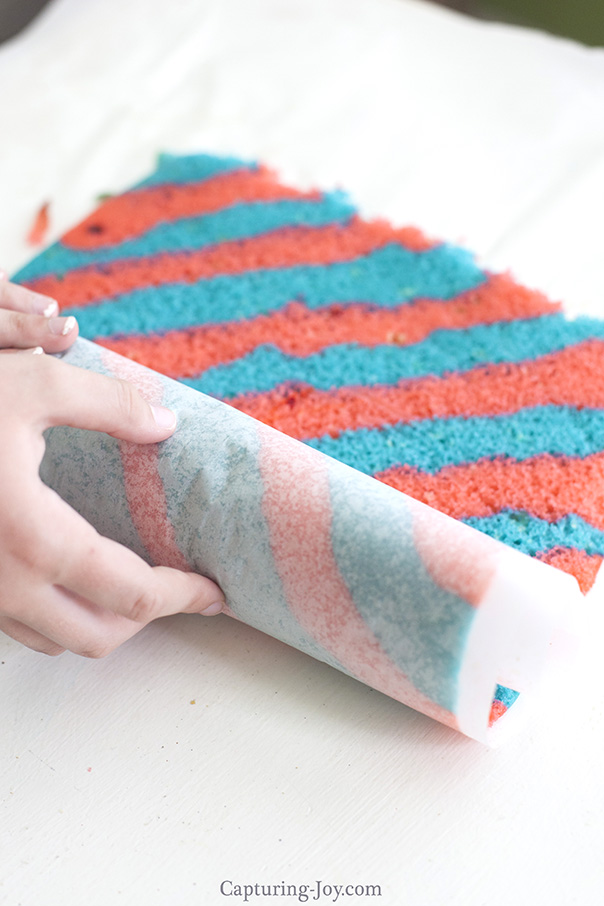 Once it's cool, spread the filling, and roll it up for good!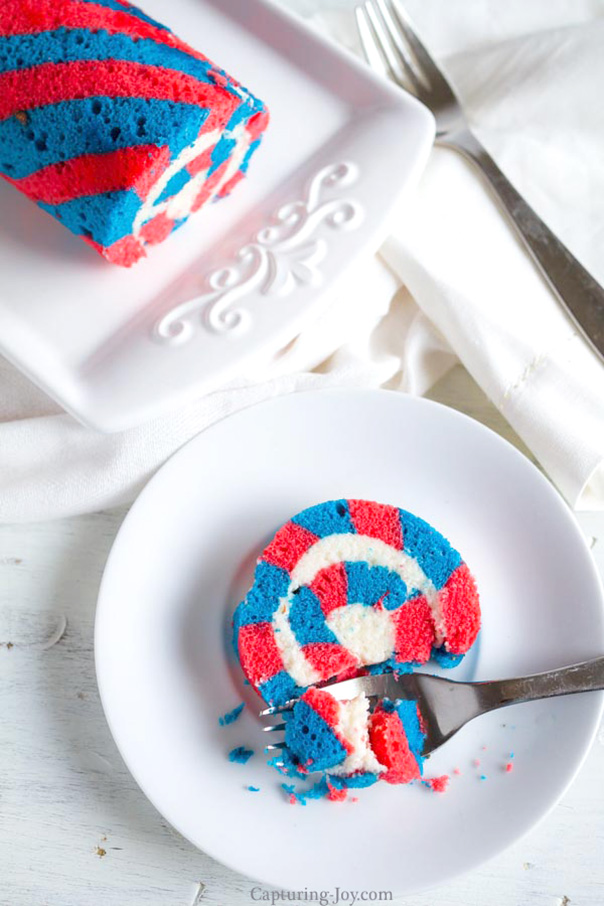 If you'd like other Patriotic and July 4th ideas, I've got a good handful on my site, including a coloring page, tips to photograph fireworks, and free printable photo booth props!