Here is another tip from my "In My Bathroom Cupboard" series, which details the items I use each day in creating my girls hairstyles. From the video tutorials on my hairstyles, I get quite a few questions asking if my girls' hair is wet. Honestly, most often it is… albeit only damp.
I find that working with damp hair when braiding or twisting helps keep the hair uniform and more manageable. It is easier to comb through, but it also helps prevent flyers and allows you to keep the hair style 'tighter' and more crisp. When you are done with the hairstyle, a gentle spritz of hairspray can help keep the hairstyle that way. The next question often asked when I respond to those asking is, "Which hairspray bottle do you use?"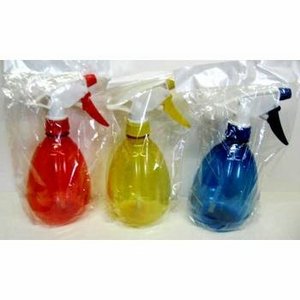 Like most of you, I often used the small spray water bottles (like those pictured above) one can find at stores like WalMart, Target, Walgreen's, or any other box store. I quickly found that these spray bottles lose their pump ability after awhile, or that my kids chew on the pump straw or the nozzle gets clogged. Obviously, they were not designed for years and years of daily use. I would have to replace these bottles every six months or so.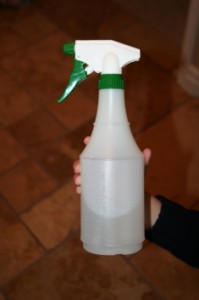 One day while my hubby and I were shopping at Home Depot, we spotted a package of three industrial spray bottles in the cleaner section. They are sold empty, so you know that the bottles are sterile and clean.
We purchased a 3 pack and have been using them ever since! I have found that the mist spray is wider than the traditional bottles, which means that 3-4 spritzes gets the hair damp rather than pumping 7+ times with the smaller bottles. (One downside is that the bottle walls suck in a little after several days of use. I find that I have to twist open the lid for a second to let air back in so that the bottle keeps its shape.)
I hope you all enjoyed this little tip!  Happy Hairdoing!
* Note from Mindy: Don't forget to follow us on BlogLovin, a new easy-to-use blog reader!