Classes, finals and papers are complete and the big day is coming – graduation day!  You should look and feel great that day because quite honestly, you deserve it! 🙂
Our hair always makes a big statement and can play a big role in our self confidence. But the special day can present a big problem as well – the dreaded hat hair!  Sounds familiar?  Don't worry.
Follow these tips and hairstyle ideas to be picture ready with the graduation cap on and after it comes off!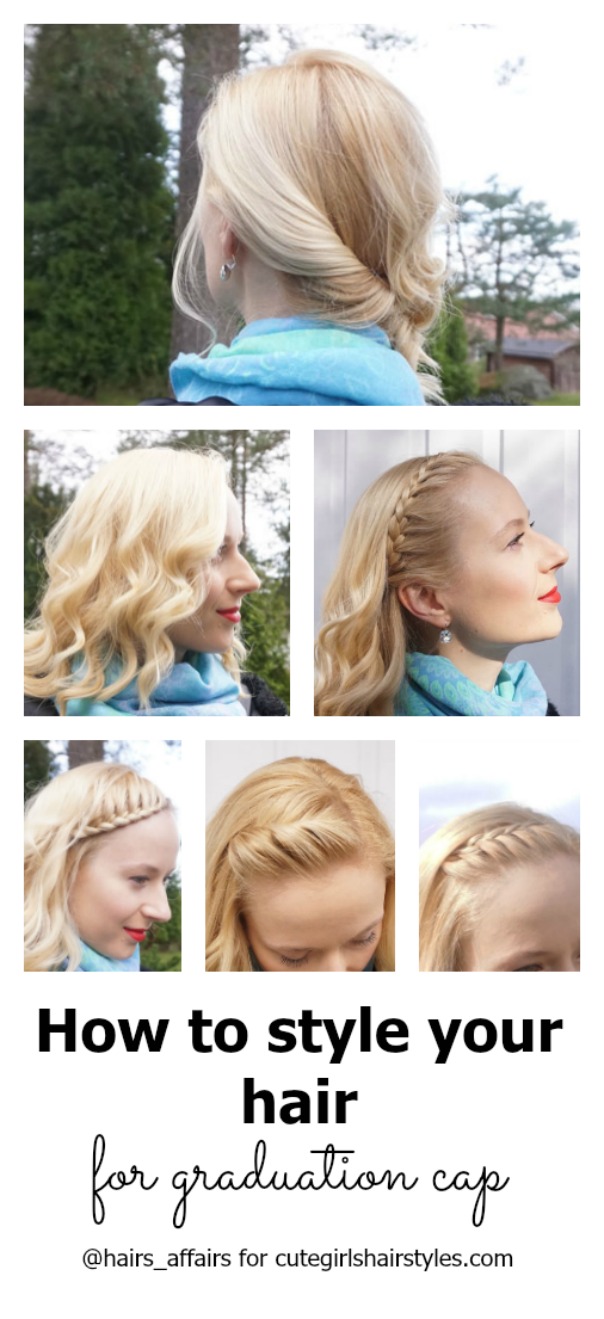 Frizz control
The first thing I would recommend you do, no matter your hair texture, is prepping your hair with a frizz control product (shampoo, conditioner, heat protectant before heat styling).  This will proof your hair against any kind of weather.  The last thing you want after you take your hat off is a flat top with frizzy ends.
Dry shampoo
If you're going to rock loose hair, spraying or dusting your roots with dry shampoo will help absorb the oils and sweat that can so easily form underneath the cap.  It will also give your hair more volume and you can easily use your fingers to lift up the hair flattened by the hat.  If you can get your hands on a travel size dry shampoo and take it with you in your purse, it would be advisable.  Another good choice for lifting your hair at the roots is hair powder.
Flip your hair
Another quick and easy trick, if you're wearing a side part, is to flip your hair to the other side before you put your hat on. After you take it off, just flip it back, shake with your fingers and voila!  Even if you're used to a middle part, maybe it would be nice to try something new? Changing how you part your hair is the easiest way to change your look!
The right hairstyles
Instead of fighting gravity, you can just play along with it!  No matter what you do, the hat will inevitably flatten your hair against your head a little bit. The above tips will help you regain volume, but it's also a good idea to choose the right kind of hairstyles, meaning those, that don't require a lot of volume at the top.
If you have very curly hair (ringlets), you might want to straighten it out a bit.  Go get a blowout, give it a bigger curl or wave. Flat hair at the top and tons of voluminous little curls at the bottom won't look so cute 😉
For those of us with straight hair, I do recommend curling it a little or giving it some wave. Any dents that the hat might create are much easier to hide in waves than on completely straight hair.  Opt for a looser curl, tighter at the bottom and looser towards the top.  Always curl the front away from you face even if your hair gets a bit more flat at the top, it will still look like it's supposed to.
For long hair, you can't go wrong with a low, messy side braid.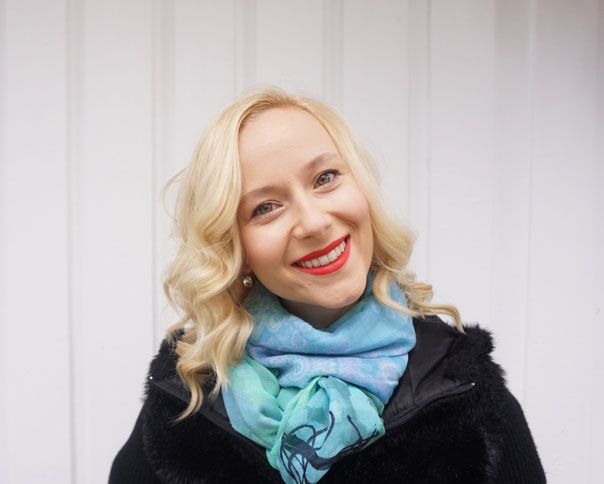 Control your bangs
Bangs can be the most problematic in the hat hair department so I decided to make a separate category for them 😉
When I used to wear bangs, I hated wearing hats! I would always end up having hair look like it's been glued to my forehead 😉 It all depends what kind of bangs you have. If they are super short, the best thing is to style them as normal and let the hat cover them. If they are longer (below the brows), you can flip them outwards (think Charlie's angels). That will look very cute with the hat on and off. Another way you can solve this problem, is braiding your bangs, wether they reach your eyebrows or are longer, even if you normally wear a side bang. This will ensure they stay put, exactly were you want them to at all times.
Twisted Bangs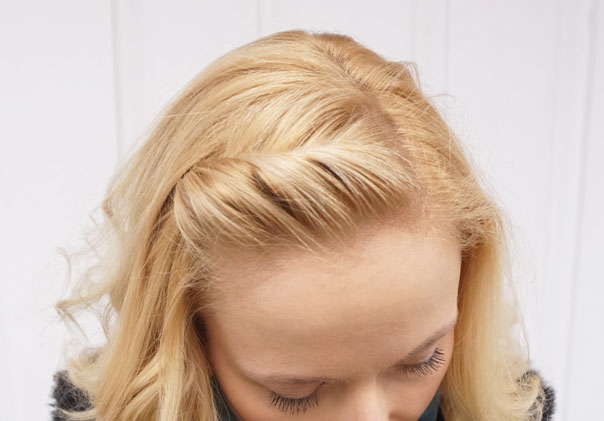 Super easy!  Twist them away from your face and hide the ends underneath some hair. Pin in place with a bobby pin.
French Braided Bangs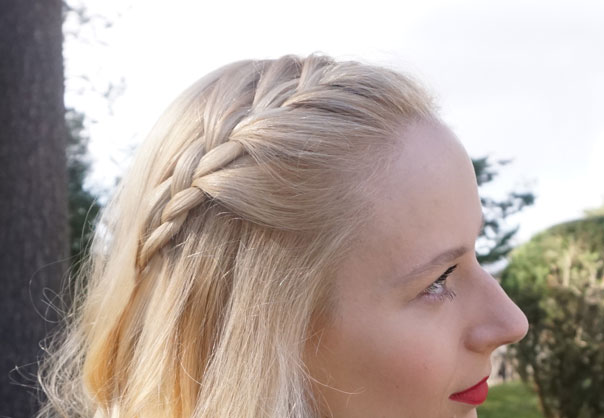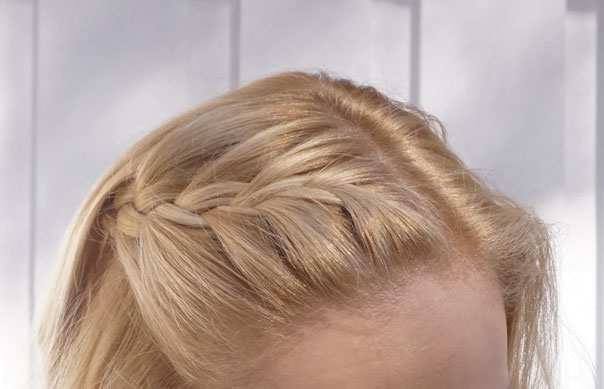 Another great and easy way to get the bangs under control. Add in new hair to the braid both from the hairline and from the back a couple of times. Hide the ends and pin in place with one or two bobby pins.
Lace Braided Bangs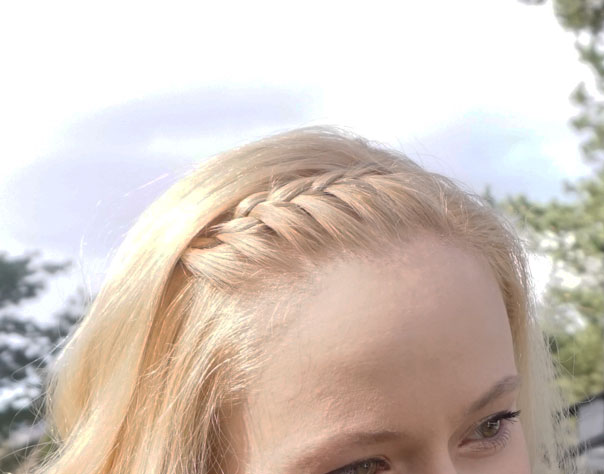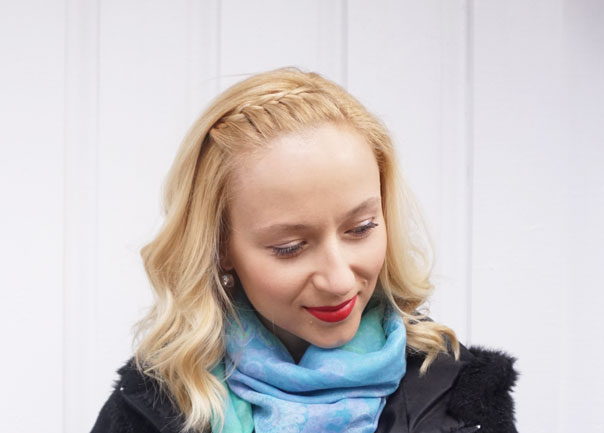 Here you only add in new sections of hair from the hair line into the braid. As usual, hide the ends and pin with bobby pins.
Lace Braided Headband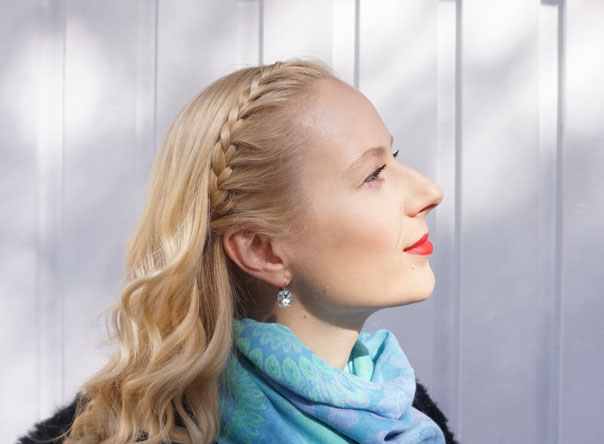 Here you take the lace braid further down, and you can do it on both sides of the parting to achieve a headband effect. Pin the ends underneath some hair in the back of your head. Your bangs won't budge no matter what happens!
Reverse Lace Braided Bangs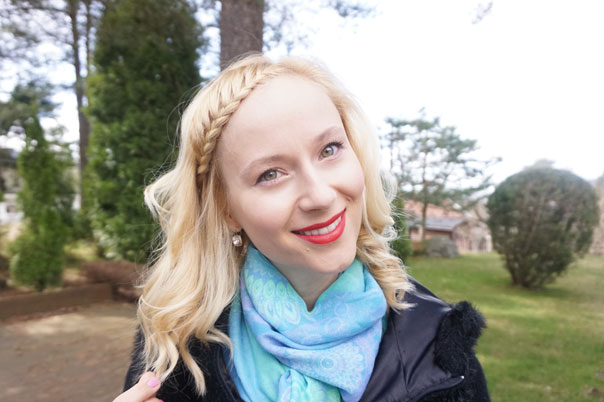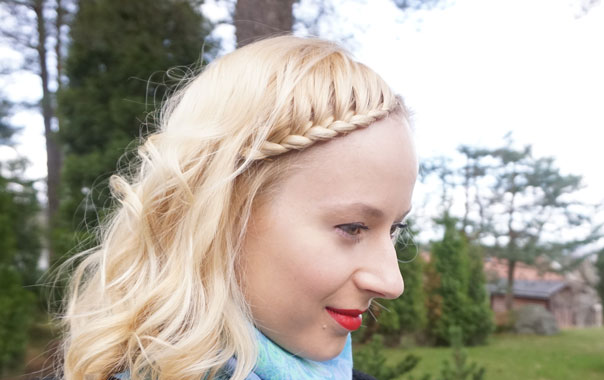 Also a lace braid, but here you add in hair only from the back. It's a good idea to braid in the direction of where you'll want to pin the braid to avoid bulks.
Braided Side Bun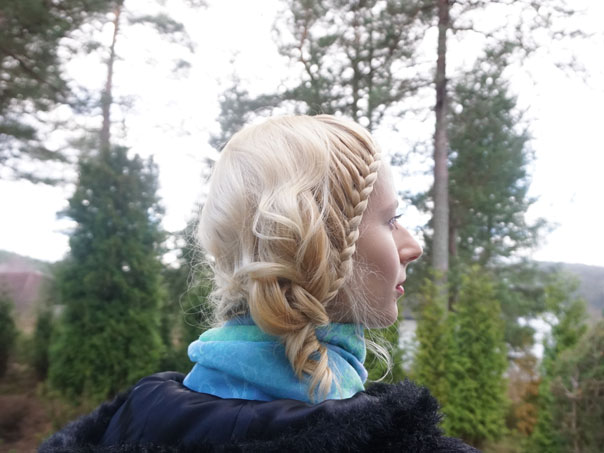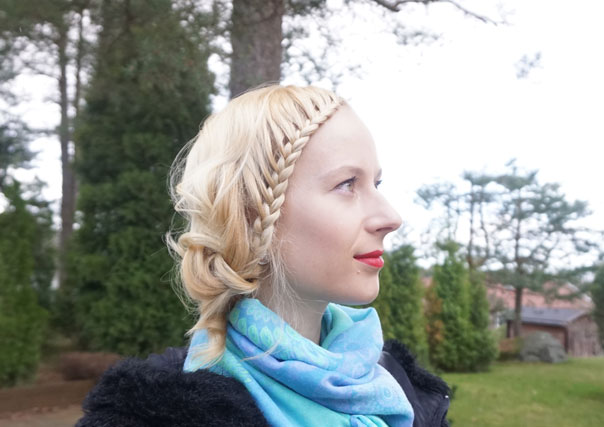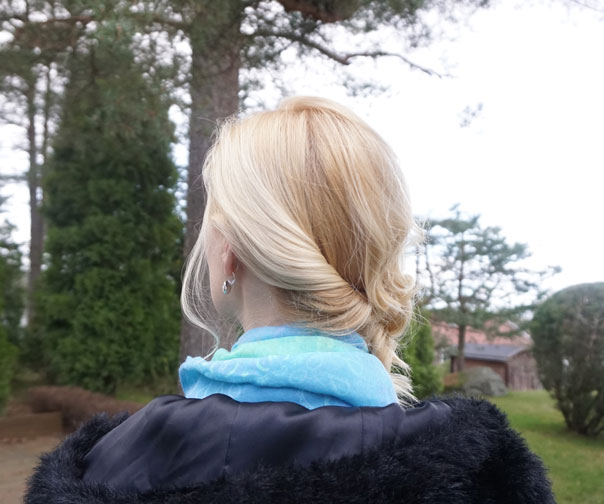 This updo will work great with a hat. It's concentrated in the lower parts, which a hat won't mess with and the reverse lace braided bangs (same braid as above, but braided further down) give it an intricate look and keep the hair in the front under control. Hair on the opposite side is twisted in the direction away from the face, towards the other side, where the bun is placed. I just placed the different curls loosely to my head and pinned them into place. How the bun will look will be largely determined by your hair length.
I hope some of these tips and hairstyle ideas will be helpful and inspire you to experiment a bit!
What do you think? Let us know in the comments!
Until next time lovely! Have a great hair day 🙂
For more great hairstyle ideas and tips visit Hairs Affairs