Hello!
Glad to be back this month with some prom hairstyle inspiration for you!
This up-style is lovely, romantic, elegant and perfect for an upcoming prom.  This is one you can do on yourself and is good even if you have shorter, layered hair.  You won't need to go to a salon for expensive hair extensions.  And more importantly, it's quite easy to do!

Step-by-step instructions:
The first thing you'll want to do is curl your hair. This will give the style a romantic look and make it a lot easier to form and pin up!  I used a curling wand and it´s quite possibly the easiest.
Next you'll want to part your hair from ear to ear in a slight horse shoe shape pointing upwards. Clip the hair on the top out of the way and tease the lower part using a rat-tail comb or a teasing brush.
Brush your hair out gently over the teasing and gather the hair in a loose side ponytail. You can tease the ponytail gently as well, if you like.
Now divide your pony into smaller sections and twist each of them, one by one loosely, place the ends close to the nape of your pony and pin in place with a bobby pin. TIP: Look in the mirror and play around with their placement, before pinning. Also leave out a few curls hanging down, this will give the hairstyle a more effortless look. This technique is great to make your short pony appear to be a full and big, messy bun.
Let the rest of your hair down and make a side part. You'll want most of your hair to go to the side where your pony sits. Make loose rope braids on both sides, where you'll pick up new hair only from your hairline.
Pick up some hair close to the part and divide it into two strands.  Cross over in the direction away from your face.  Add in additional hair to the lower strand and cross over again.  Continue until you've added hair from above your ear and then just twist the two sections over each other without adding in new hair and secure it with an elastic at the end.  Now repeat on the other side.  Be sure to leave out some face framing pieces.
Now just place the twists in the back of your head, crossing them over the bun and pinning them in place with bobby pins. Make sure to hide the ends. Don't pull them back tightly, leave it soft and loose.  You can now pin up any remaining hair that has been left out over the twists. It will help blend everything together.
Now look at everything from different angles in the mirror.  Tweak it until you're satisfied, spray it with a bit of hairspray and you're done!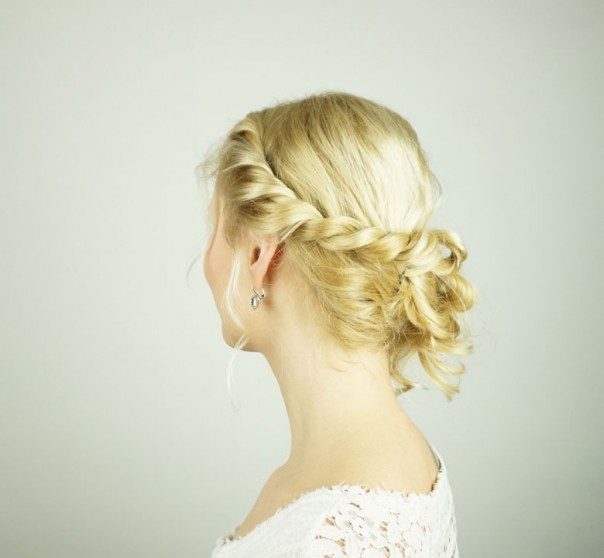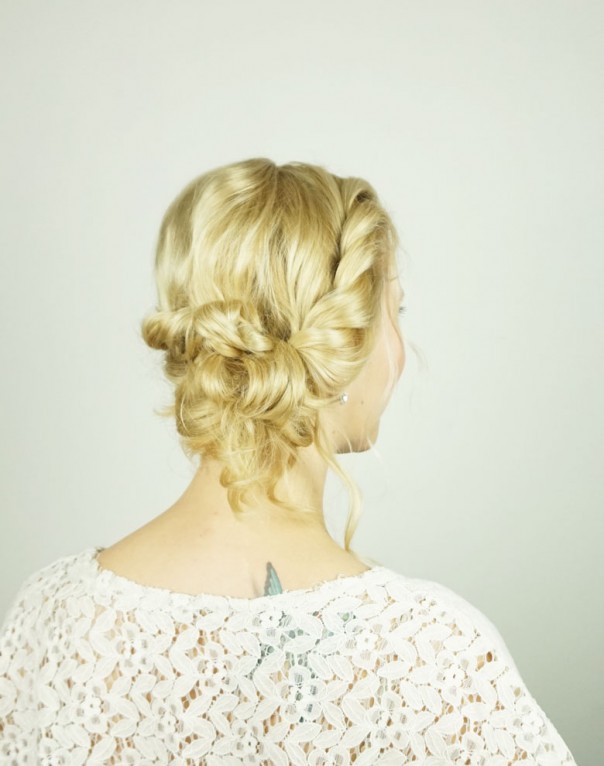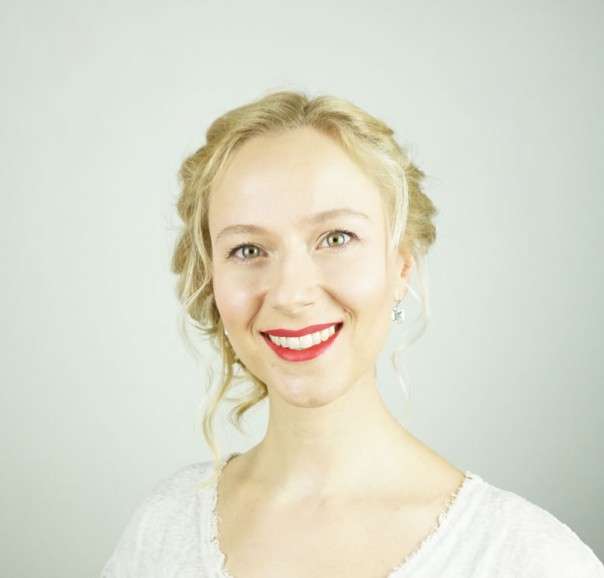 So how about it? Will you give this easy DIY prom hairstyle a try?
Ok lovely! Prom or no prom, may you have a wonderful hair day! 🙂 See you next time!
For more great hair tips and ideas check out Hairs Affairs!