Hello Lovely,  I'd like to share with you 3 hairstyles that will survive the summer heat!  You know, the kind of heat that makes your hair all sweaty and makes it stick to any surface it comes in contact with? 😉
I live in Barcelona, where summers tend to get very hot and humid, so having the feeling of hair glued to my back and neck is a daily problem…unless I make proper arrangements! 😉
The beauty of these is that you won't have to prep your hair, just let it air dry and that's it. If you're struggling with frizz, you can also do them on slightly damp hair, which will make it easier to tame.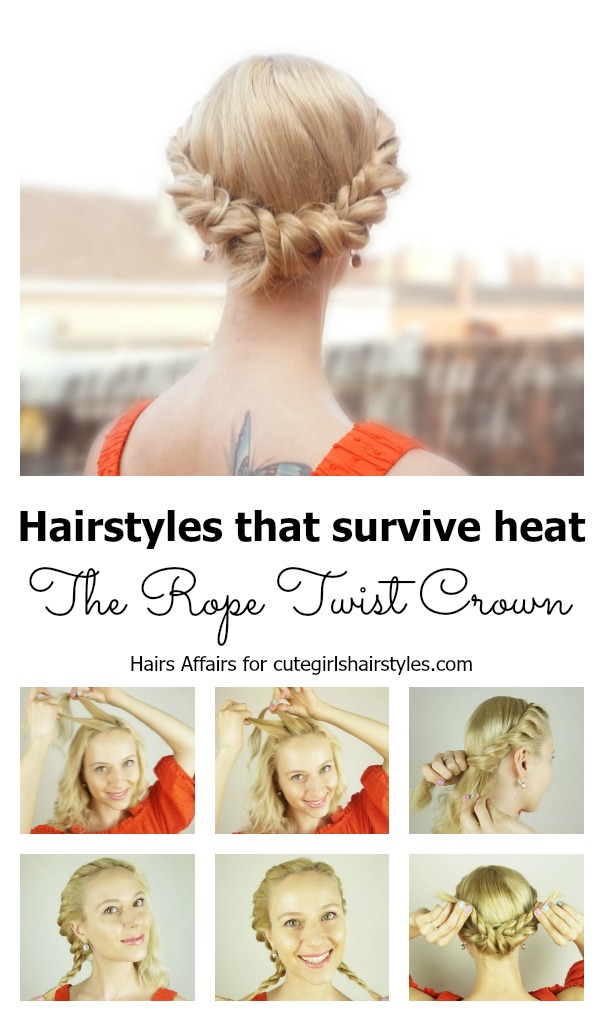 This updo is a great choice if you want a quick and easy solution for a hairstyle that is out of your face, neck and back, but still doesn't look too sleek or flat. You'll still have that lift and poof in the front. I love the rope twist in general, because it's so easy to do, it gives your hair a nice wave to it, so if you decide to let it down in the night, when temperatures have cooled down a bit, you'll be left with gorgeous beach waves! This easy to achieve rope twist crown is also suitable for shorter to medium length hair.
Create rope braids on each side. Pick up a section of hair near the parting and divide it into 2 strands. You'll then be twisting the strands over each other in the direction away from your face. Add new hair to the lower strand every time before crossing it over. Only add in new hair to the twist from the front, not from the back (only from your hairline). That way when you criss cross the braids in the back, you'll be able to tuck and hide the ends in the "pockets" and pin them in place with bobby pins. If you want to you can tug a bit on the edges of the braids for a fuller, more voluminous finish.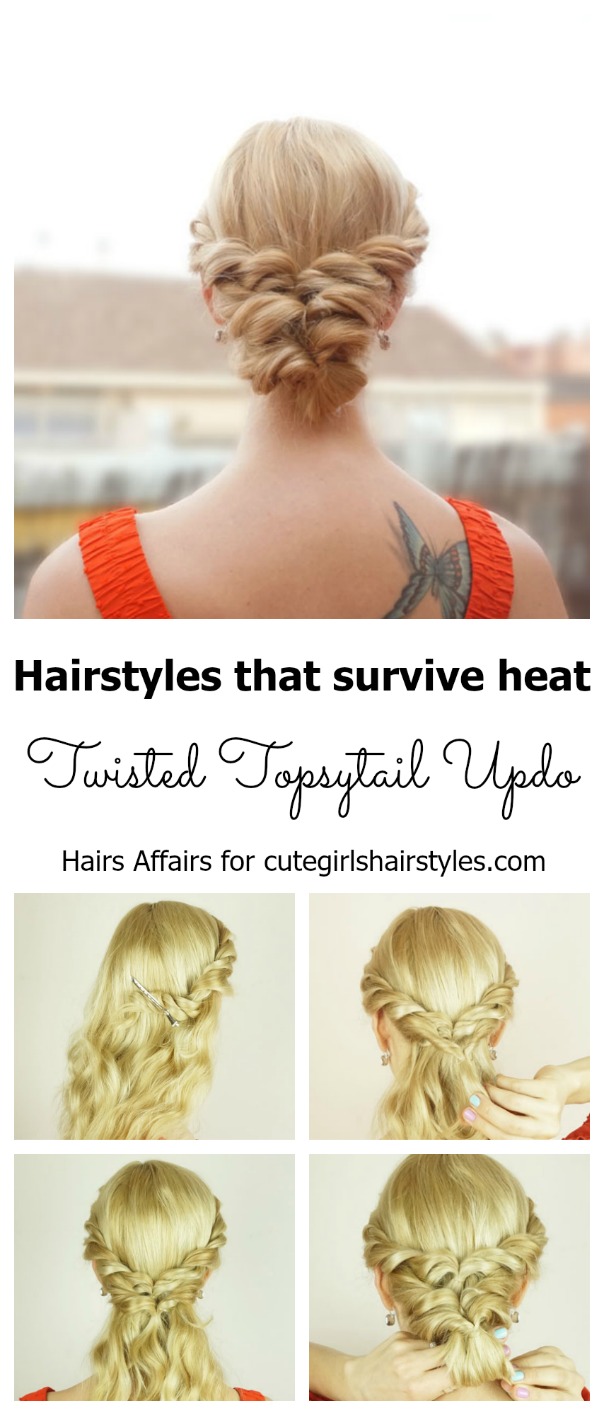 This one is an excellent choice if you want to look elegant on a hot summer day.  It's easy to achieve, in fact you start the same! Make rope braids on both sides & add in new hair only from the hairline. This time you'll stop adding in new hair to the braid when you reach the top of your ears.  Now you'll just twist the two strands together until the braids reach the back of your head and tie them together in the back with a clear elastic. Below that you'll make two or three topsytails (ponytails that you flip over and under) until you reach the nape of your neck.  Then tie everything together in one low ponytail. Next,  roll the ponytail under and pin it in place with bobby pins. Tug on the edges of the rope braids and topsytails for a fuller look. If you hair is longer, make a normal 3 strand braid at the bottom, that will make it easier to roll it under and pin in place.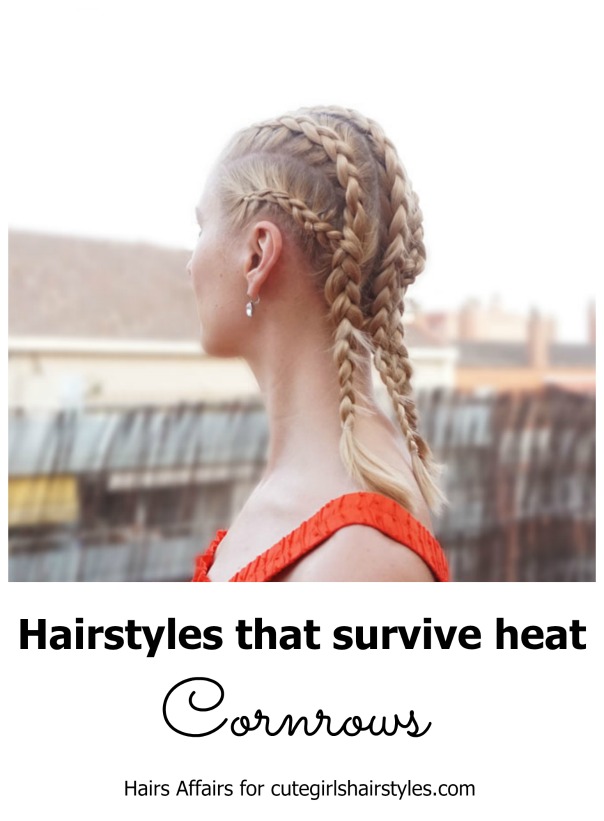 Dutch braided cornrows aren't the easiest or quickest to achieve, but it will last several days and survive not only heat but also a dip in the pool or sea.  This hairstyle is simply a series of dutch braids.  The trick to this hairstyle is getting the parts right.  They should be even and symmetrical on both sides but other than that you have a ton of choices. You can part your hair in a variety of angles and braid each section separately or merge them. You can choose to braid as many sections as you want.  If you're in to this type of look, cornrows are definitely something to think about 😉
Let us know which one of these is your favourite?  I'll see you next month! 😉 xo
For more great hairstyles and tips check out Hairs Affairs.