Today we're putting an Italian twist on one of my favorite Mexican dishes! These enchilada Lasagna Rolls have all the great flavors of a classic chicken enchilada recipe, but we're ditching the tortillas and wrapping the filling inside some lasagna noodles… and the result is simply delicious!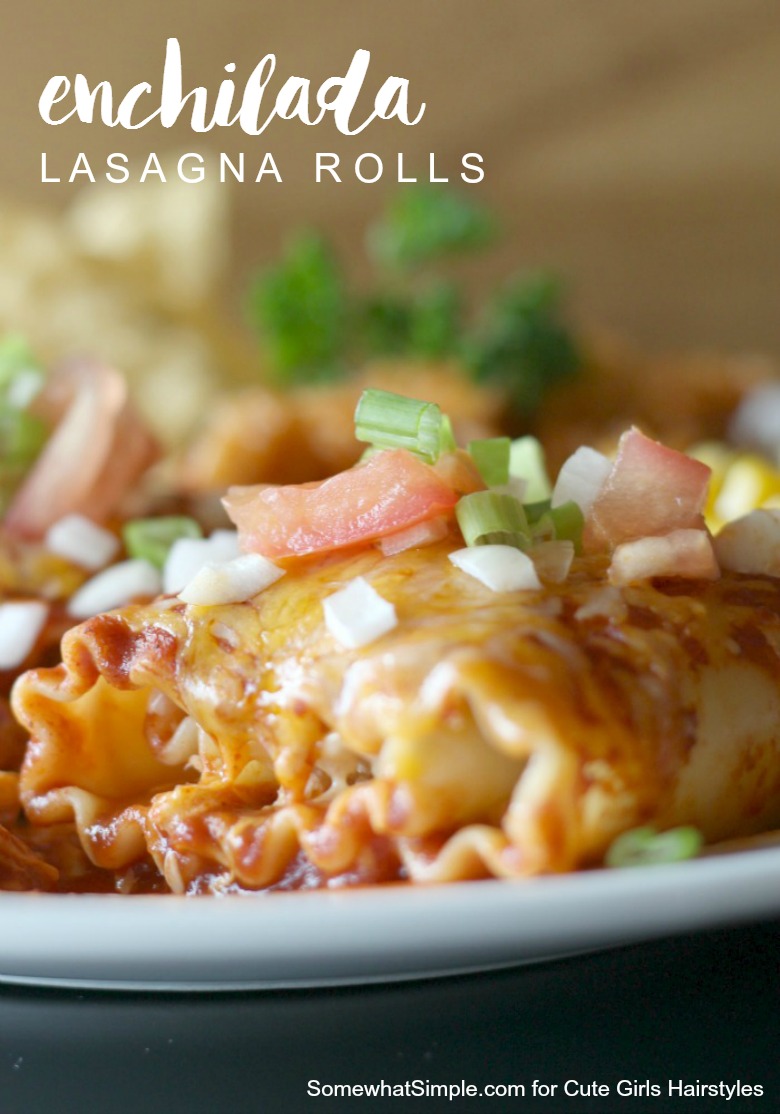 One of the things I love most about this dish is how simple it is to put together. It calls for only 4 ingredients that are easy to keep on-hand, which makes for a stress-free weeknight dinner that is ready in no-time at all!
If you have a favorite enchilada recipe, by all means, use it for the filling of this recipe! Here is our favorite semi-homemade enchilada recipe, including the only brand of store-bought sauce I will ever buy!
Let's get cooking, shall we?
Enchilada Lasagna Rolls
INGREDIENTS: 
2 cups of shredded, cooked chicken
2 1/2 cups of cheddar cheese
1 large can of red enchilada sauce
1 package of lasagna noodles
green onion, diced tomatoes & sour cream for garnish, optional
These are just approximate measurements – feel free to add more or less cheese or sauce or chicken to your liking! 
DIRECTIONS: 
Cook pasta according to package directions, drain and let cool enough so you can handle them.
Meanwhile, preheat oven to 350 degrees Fahrenheit.
Pour a few tablespoons of the enchilada sauce in a 13 x 9 casserole dish to coat the bottom.
In a medium bowl, add the chicken, 2 cups of cheese and about half of the remaining enchilada sauce. Mix until combined.
Place 2-3 tablespoons of the chicken mixture on one end of a lasagna noodle, then roll the noodle and place seam-side down in the casserole dish. Repeat with the remaining noodles.
Pour the rest of the enchilada sauce over the top of the lasagna rolls, sprinkle with the remaining cheese and bake in the oven for about 20 minutes or until the cheese is melted and the rolls are heated through.
Garnish with desired toppings, serve and enjoy!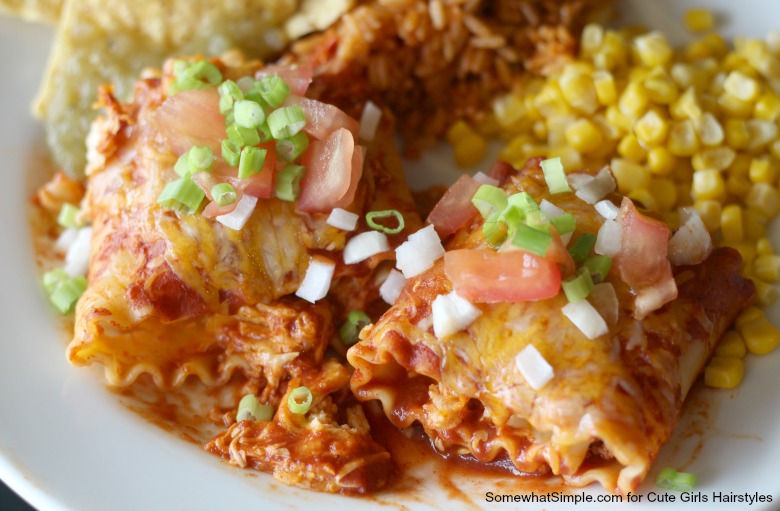 We have over 2 dozen enchilada-inspired dishes on Somewhat Simple – how hungry are you?
Happy cooking everyone!