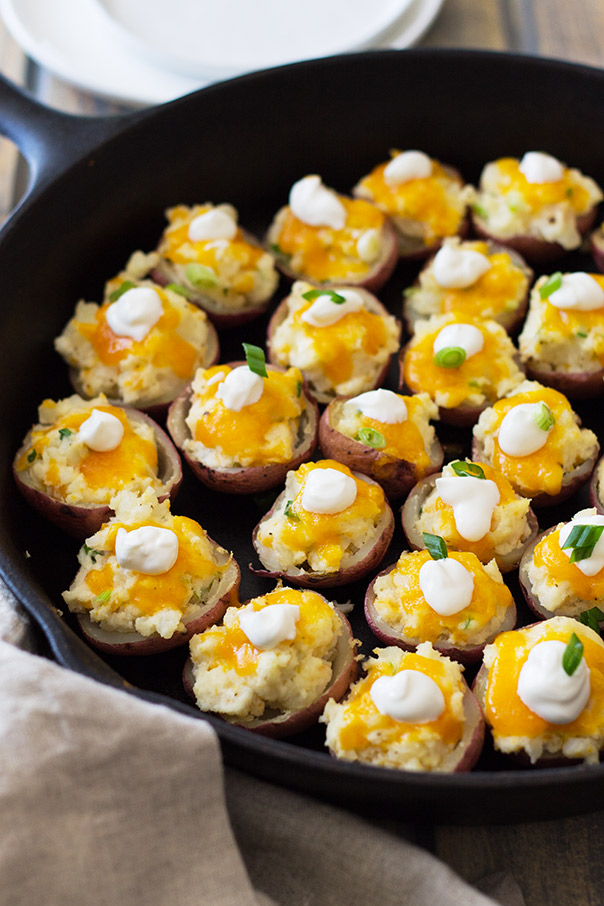 Thanksgiving is just around the corner and I thought I would bring something a little different for an easy appetizer.  My family absolutely loves these twice baked potato bites and they are easy enough they can help make them!  Win-win!!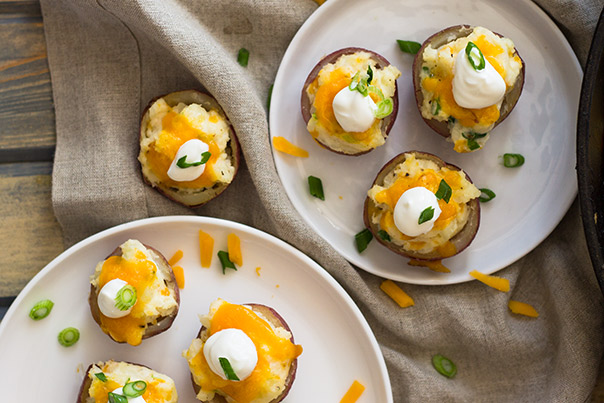 Start by baking your potatoes until they are easily pierced with a fork then let them cool just enough so they are easy to handle.  Cut each potato in half and scoop out the pulp and put into a bowl.  Set skins aside.  Combine other ingredients with the potato pulp and mix it up then scoop back into each skin.  Broil on high until the cheese is melted and serve topped with sour cream and more sliced green onions if desired.
TWICE BAKED POTATO BITES
Ingredients:
1 ½ pounds baby red potatoes
3-4 strips bacon, cooked and crumbled
½ cup sour cream
½ cup sharp cheddar
2 thinly sliced green onions
Salt and pepper to taste
Toppings: extra cheese, sour cream, green onions (optional)
Directions:
Wash each potato and place on a baking sheet. Pierce each potato and bake in a 350 degree oven until they are easily pierced with a fork. Cool slightly so they are easier to handle.
Cut each potato in ½ and carefully scoop out the pulp with a spoon leaving a little for a shell and set potato skins aside. Combine the pulp with the bacon, sour cream, cheddar, green onions, salt and pepper. Scoop mixture into each potato shell and place back onto the baking sheet. Top each with additional cheese, if desired and broil on high for 5 minutes or until cheese is melted and potato bites are heated through. Top with desired toppings and serve immediately.