I have shown pictures on how to do a zig-zag part before, but some of our younger viewers have asked for a video tutorial so they can see exactly how it is done.
There are many parting styles that I will show in coming months, but aside from a straight part… this is the one I use second most in my hairstyles.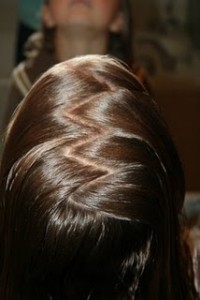 I truly apologize for the lighting in the video tutorial! I really am not orange in color! (We are looking to replace the lighting in our bathroom so that we can continue filming on weekday mornings and not only on weekends when the window light is better.)
This tutorial was filmed just after 5:30am, with no outside window light, as that is when we get up to get ready for school. Yes, it is early, but with five children to get ready (4 girl heads of hair), three kids practicing the piano, family breakfast and scripture study… it is the only way to get the kids out the door to the bus stop by 7:10am!
Items Needed: Water spray bottle (it is easier to part the hair when damp or wet), rat-tail comb.
Time Requirement: 2 minutes
Skill Level: Easy
Happy Hairdoing!
* Note from Mindy: Don't forget to follow us on BlogLovin, a new easy-to-use blog reader!