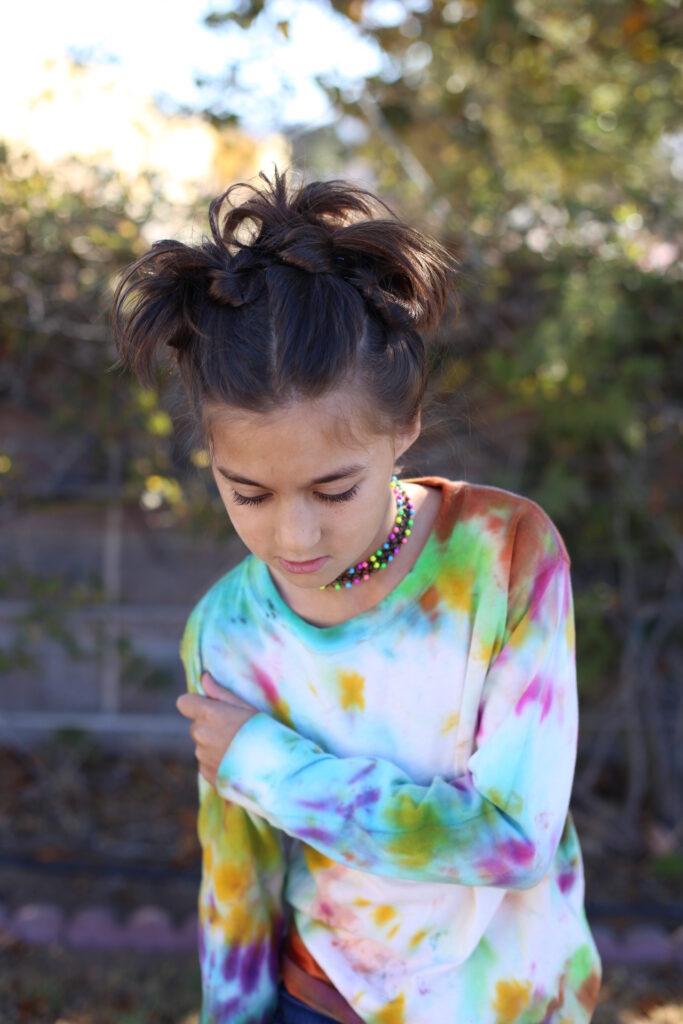 I was a 90's kid.  I loved being a 90's kid! Boy bands, Britney Spears and Spice Girls were hot, and whether or not you admitted to enjoying their music, you did.  You couldn't live without your chokers, vanilla body spray and shimmer lotion.  Glitter and bright eye shadow were EVEYRTHING and butterfly clips were your go to when you were wanting to look extra cute.  A lot of the hair was grungy, textured, twisted, knotted and ponytails were worn on top of your head.
I have a strong feeling that soon, 80's parties will be a thing of the past and 90's parties will be in, so I wanted to give you some inspiration!
Until I started looking around for inspiration for some totally awesome 90's hair, I didn't realize how many things from the 90's have actually come back in style! Chokers are making a hard comeback and I swear everywhere I go, I'm smelling that familiar scent of vanilla body spray!  There are lots of 90's hairstyles resurfacing!  We are pretty much loving it!
TEXTURE
Texture, texture, texture!  Yep.  There are three different types in there.  I started off with day after French pigtail braid waves on Charlie.  Then I got out my micro crimper and took small strands and textured them. Lastly, I got out my 1/2″ curling iron and wrapped small pieces around the barrel.  I finished the look off with a little texture cream on the ends.  Oh and yeah, those are stick on gems on her face.  Women like Gwen Stefani and Christina Aguilera were frequently seen wearing these bad boys.  Charlie was thrilled to give them a try!
HIGH PONYTAIL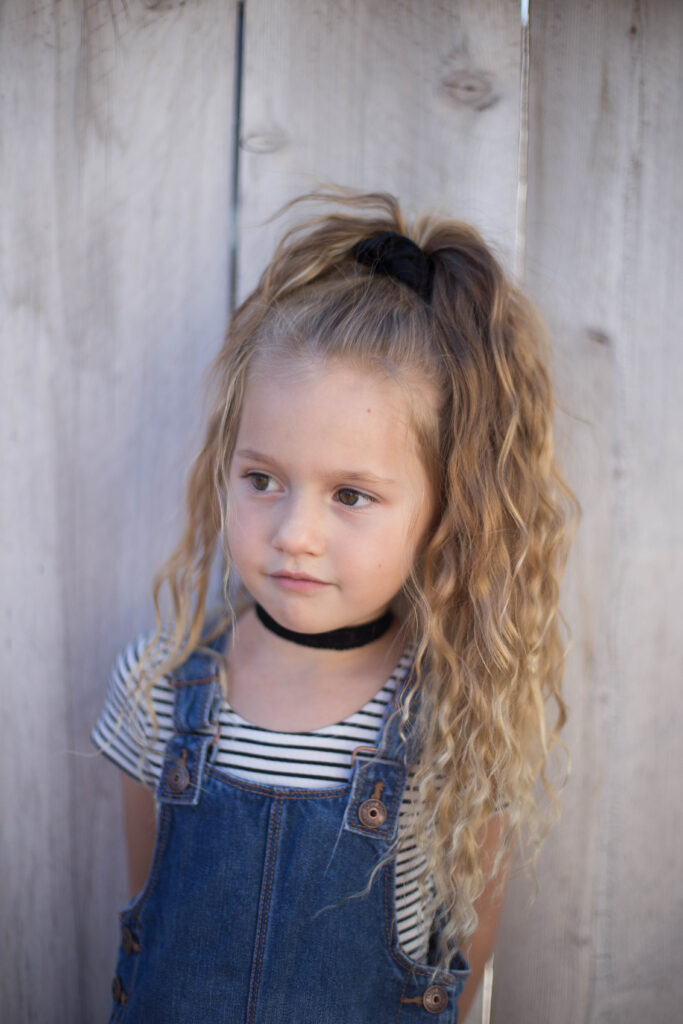 In the 90's you pretty much always had a scrunchi around your wrist in case you needed to throw your hair up in one of those crazy high ponytails.  It was done with lots of different textures, straight, or even braided! Don't forget to leave out some pieces around your face!
PIGTAILS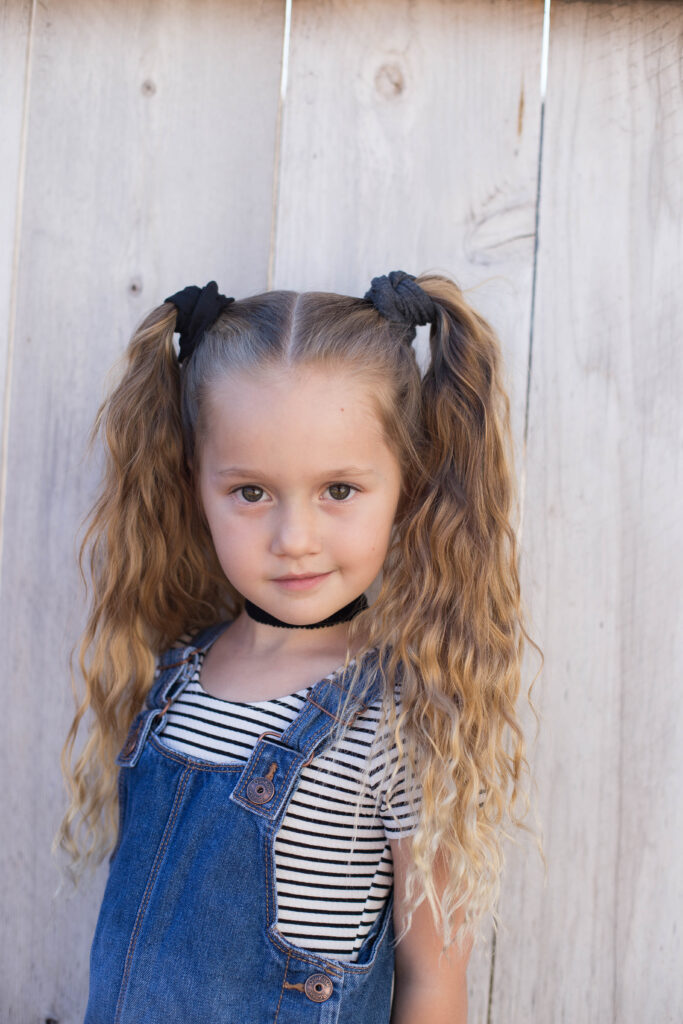 You didn't have to be under seven years old to wear your hair in high pigtails in the 90's.  We owe that one to Britney Spears and the Spice Girls.  If you're going for 90's style pigtails, make sure to wear them nice and high, and a little more toward your face than the back.
TWISTS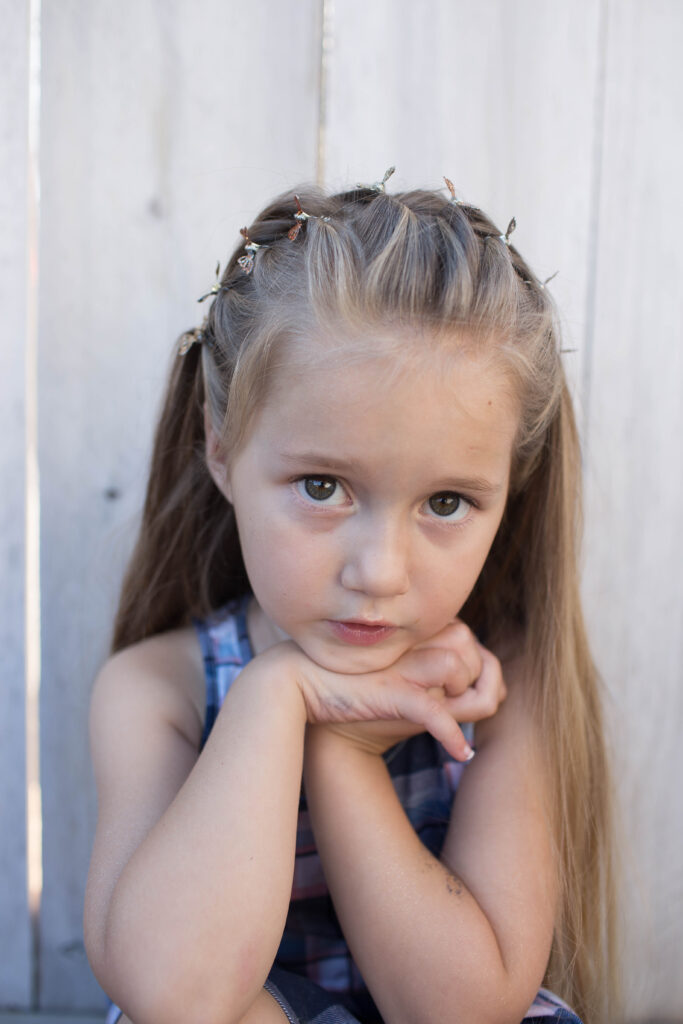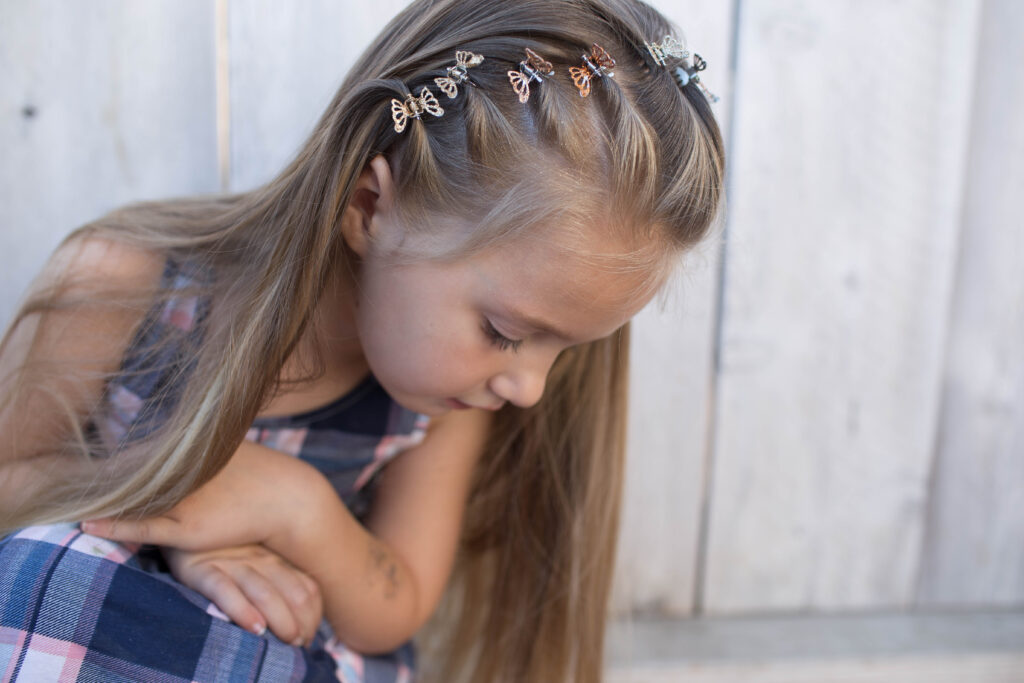 This style was my go to style in my teens.  Butterfly clips. So. Many. Butterfly clips.  You could wear them in a nice row like this, or toss them into an updo to spice it up.  If you weren't as much the girly type, you could finish your twists off with bobby pins instead.  You could also throw the ends up into a nice twisty, funky updo.  Another version of this is to braid in cornrows instead of twists.
THE WATERFALL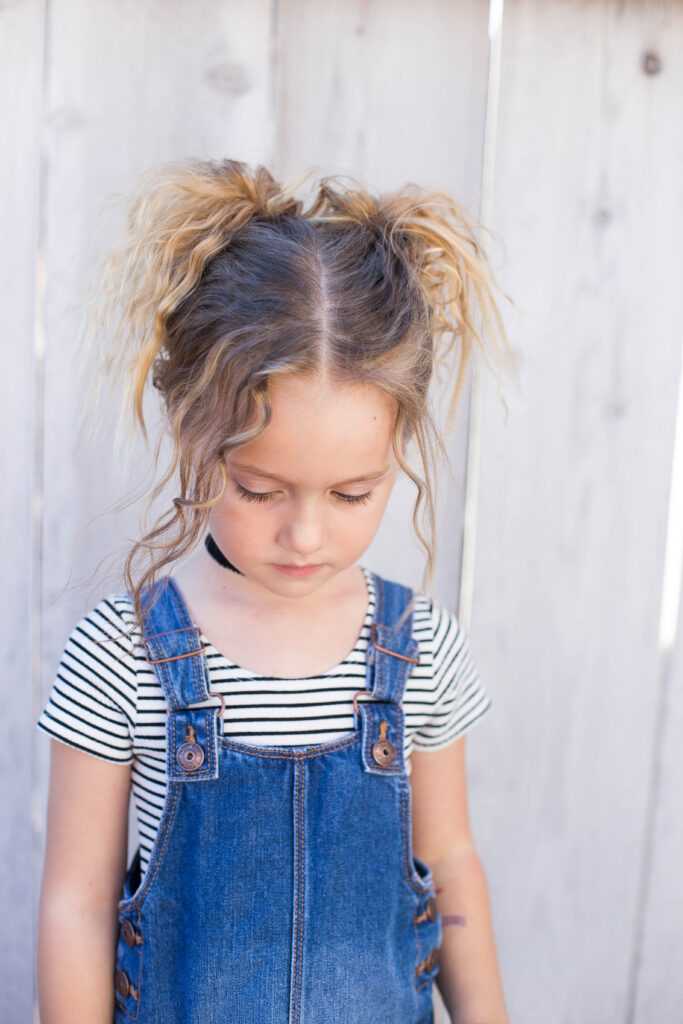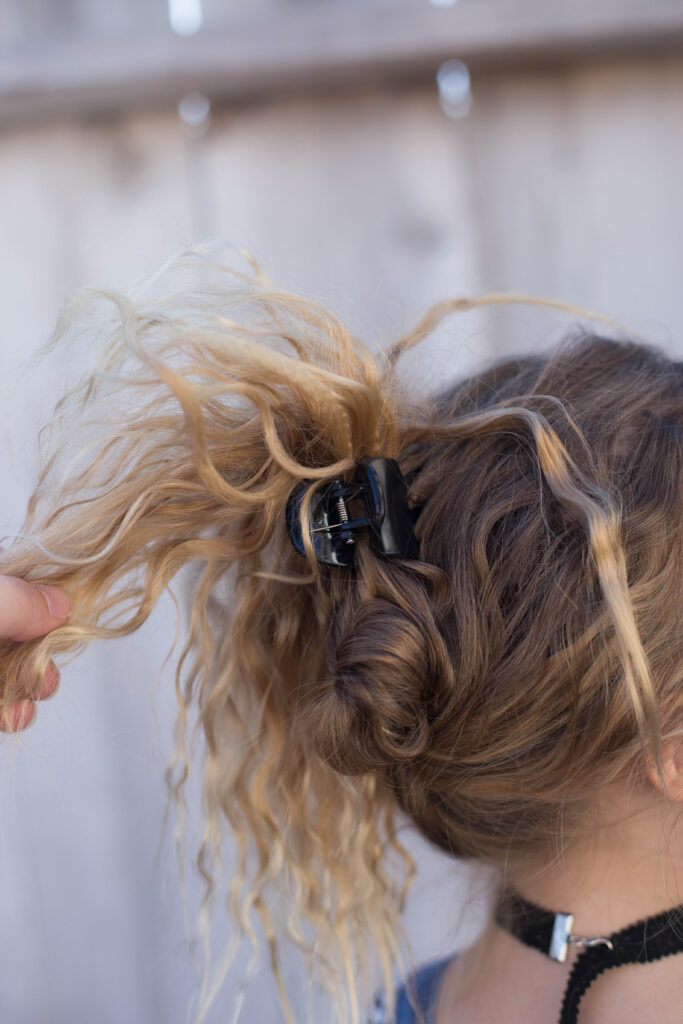 Claw clips were also a must have.  You just grab the hair, twist it all and use a claw clip.  Then you let the ends of your hair waterfall over the edges of the clip.  Even better if you use a little pomade to make the ends a little spikey.  This is in pigtail form but it was really popular in the ponytail form as well.
MIDDLE PART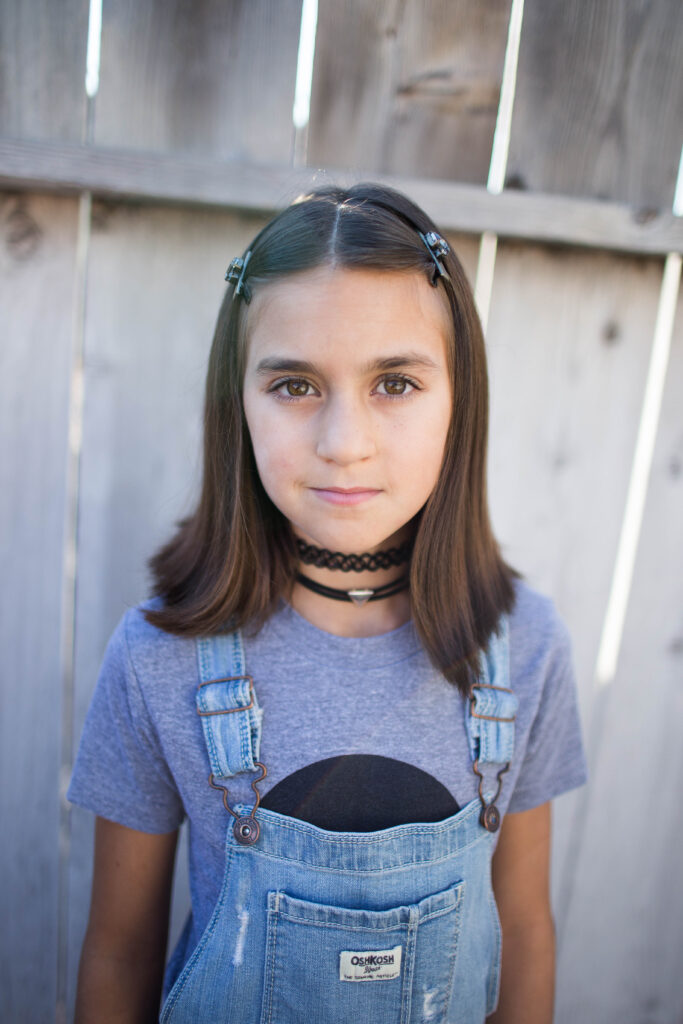 Flipped out hair parted down the middle was also rad.  Complete the look by adding a clip on each side, nice and close to your face.  Even better if you leave a small chunk of your bangs out on each side of the part.
KNOTS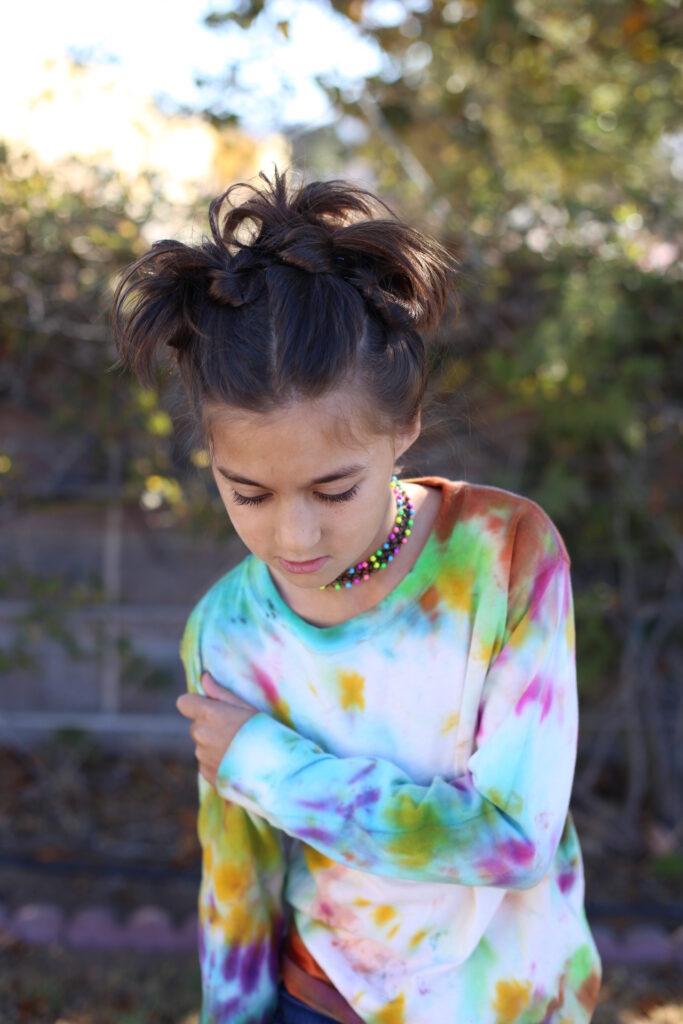 Pull back sections of hair, secure with elastic.  Then literally tie in a knot!  Keep in place with bobby pins.  I used a little hair gel on the ends to keep a "spikey" look!  Total 90's rocker!
Thanks for checking out our 90's styles!  We hope you enjoyed it!  My kids officially think I'm crazy now, but we had a really good time doing it!
Check us out on Instagram @abellasbraids for tons of hair inspiration and cute fashion pics of my kids! See you here again this time next month!